Visiting 10 Amusement Parks in One Year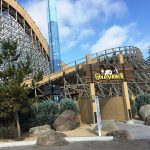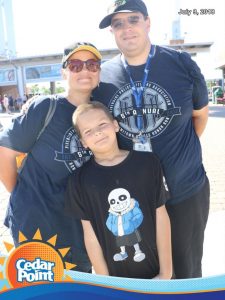 Last December as a Christmas gift to the family we got three Cedar Fair Platinum passes. We had a Gold pass (only good for Knott's and Soak City) three years prior and combined it with the dining pass. We went so many times on our prior pass that it came out to less than $20 a visit.
This year the three platinum passes, plus two drink passes (this lets you get a soda every 15 minutes, and the dining plan (you get two park meals every 4 hours apart) cost us $984.54. This is a lot, but less than one Disney Signature pass and it also includes a 20% discount on all purchases, parking, and no blackout days (except Christmas when they close).
The Cedar Fair Platinum pass lets you go in to any park owned by the company. The company owns and operates twelve amusement parks, two outdoor water parks, and one indoor water park. Most of the parks are on the East coast. Although Knott's Berry Farm and California's Great America in California are two fun parks on the West coast.
When we were planning for this year, we were already planing to visit amusement parks. We had planned a trip to Florida to visit Universal Studios and Islands of Adventure. We also added to that a trip to Volcano Bay (a Universal Water Park). We did that in April and I have to say that Universal Studios is a class way above Cedar Fair in quality. In fact, in many areas (in particular the Harry Potter lands), they are a strong competitor to Disney (who is #1 for amusement parks).
Except for maybe Cedar Point, which is the Roller Coaster capitol of the world, no one usually travels just to visit a Cedar Fair Park. Most of the rides at a Cedar Fair park are the same. Each park usually has one or two unique rides, but you will find the same rides at many of the parks. Cedar Fair has done a great job in buying some very classic properties like Knott's (which was the First Theme Park in the USA) and California's Great America (which used to be owned by Paramount Studios) and continue on the legacies they left behind.
Having pre-paid food, drinks, and parking makes things very easy. Knott's Berry Farm is the closest Cedar Fair park to us. It takes about 30 minutes for us to get there from our house. Having everything included has spoiled us in that we have been known to go often to Knott's ride like one or two rides, or maybe see a show, have dinner and then leave. Many times we have been in the park for less than an hour. The last time we had all season dining it was very limited to just hamburgers, hot dogs, and fries (they always give you too much fries, but now they have opened up the options. Now you can still get the hamburgers and hot dogs, but you can also get BBQ, corn on the cob, crazy fries, Mexican food, and gourmet salads. The variety is an excellent value. No sit down waiter places, but still lots of options.
Having the Platinum passes helped us get out there and see a bit more of America and it even got us out of the country when we went to Canada's Wonderland. I had always wanted to go to Canada, but never really seemed to find a reason to go, but now that we had the pass it became a goal.
Here are the amusement parks we have visited this year:
Knott's Berry Farm (Buena Park, CA) 1/5/18
Universal Studios Florida (Orlando, CA) 4/2/18
Islands of Adventure (Orlando, CA) 4/3/18
Volcano Bay (Orlando, CA) 4/5/18
Michigans's Adventure (Muskegon, MI) 7/4/18
Canada's Wonderland (Toronto, ON) 7/6/18
Cedar Point (Sandusky, OH) 7/9/18
Kings Island (Cincinnati, OH) 7/10/18
Soak City (Buena Park, CA) 7/14/18
California's Great America (Santa Clara, CA) 9/1/18