US State Capitols: Cheyenne, Wyoming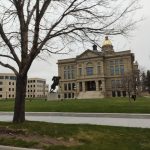 Cheyenne was born in 1867 when the Union Pacific passed through Wyoming with the transcontinental railroad. Growing rapidly, the territorial government made Cheyenne the territory seat in 1869. When Cheyenne became the territory seat, it also went down in history because part of it's territorial charter was an act that granted women the right to vote, thus Wyoming was the first place in the USA where women were legally allowed to vote.
Allowing women to vote became a stumbling block for Wyoming to become a state. Congress used the excuse that Wyoming didn't have enough population but there are several documented conversations of Senators pondering the political implications of allowing Wyoming to become a state when women could vote. A compromise was made that allowed Wyoming to become a state in 1890, but women were banned from working in coal mines (apparently miners made good money) until 1978.
When Wyoming was created as a territory there was a lot of discussion to name the territory after recently assassinated President Lincoln. The Senate committee however decided with the exception of Washington, no state should be named after a person (so what happened to Georgia, New York, North and South Carolina?). It was decided the territory should take a nod to it's native roots and Wyoming comes from the Lenape language meaning "large plains". The buffalo on the flag symbolizes the meaning behind the name.
Today the capitol remains a grand building representing the explorer and cattleman spirit that helped found the state. Wyoming has a lot of space but still remains the least populated state with only 586,000 total citizens.
Video: