Road Trip to Julian California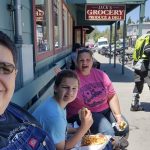 If you take highway 79 out to the Eastern limits of San Diego County, you will end up in the mountains and find a little town called Julian. Julian was known in the late 1800s for being part of the gold rush of California. The gold ran out and Julian made a name for itself for planting orange, avocado, and apple trees. There are many places in Julian that will sell you pie. The two main pie companies are The Julian Pie Company and Mom's Pie Company. The only way to tell which one you like the best is to go to Julian and buy a slice for yourself.
When we went we passed by the town of Pala, which is an old Asistencia (helper mission) to Mission San Luis Rey. My dad used to be a Catholic priest and he trained at that church. It was a nice stretch break and out in the reservation we were able to get some avocados.
Video Link: