The Pedrozas and the Demigods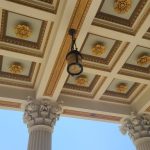 Date Visited: August 20, 2022
In Rick Riordan's the World of Percy Jackson, Percy discovers that the United States is the new Greece. So it is not surprising that some of us might have Demigod powers and not even know it.

For obvious reasons this cannot be publicly confirmed, but for those true adventurers out there is a way to find out if you belong in the coveted Camp Half-Blood.

To find out we went to the most Greek place we could find, the Getty Villa Museum in Malibu, California. It was there that we would have our magical adventure.

The Getty Villa Museum on it's own is a very magical place. J. Paul Getty was a oil magnate and accumulated massive wealth investing in oil in California. His company started out at Getty Oil and eventually became Texaco Oil. With his wealth he became a patron of the arts and collected some of the most exquisite art pieces ever known in the world. Enough so that he was able to fill two museums. The Getty Museum is principally focused on ancient Greek and Roman art but also has some amazing Egyptian and  Ottoman empire art as well. The best part is it all free, but you do have to pay $20 for parking, or you could take public transportation and then it is completely free. The one catch is that you have to make a reservation. To do that you can go online at https://tickets.getty.edu/Online/default.asp?BOparam::WScontent::loadArticle::permalink=villa&BOparam::WScontent::loadArticle::context_id=
For those that get a ticket, you will be treated with the opportunity to walk through a detailed recreation of a Roman villa, just before Mt. Vesuvius erupted. The exhibits are amazing and they have free audio tours through their app.
The best audio tour however is not advertised at the museum. It is only found by those that are actively looking. If you ask the staff at the Getty about this tour, they will not know what you are talking about and it does not show up on the official app. Luckily for you we know how to get the secret tour. To do this secret tour you must have a smart phone with data connection, don't worry if you are low on your data plan because the museum does have free wifi. Go to the indoor reflection pool in the atrium, open a browser, then go to this link https://www.getty.edu/art/mobile/villa/percy/ , then click "begin adventure".
If you are not chosen don't worry, you will just go to one of the regular audio tours, just select one, they are all good, but if a centaur starts talking to you, you have been chosen to go on an extraordinary adventure. If you get the big adventure, remember no one can hear you and not even the staff really know what is going on, so they can't help you either. You might find that some areas are closed, I suggest if that happens do your best to find your way around those points.
In addition to finding what Demigod I was in, we were also able to get in line to make our own perfume. I found this idea fascinating as well and I have been actively making my own perfumes out of extracts ever since. So far I have like 10 different formulas.
A video about our adventure: