Helsinki Capital of Finland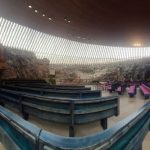 Date Visited: 7/25/22
Finland as an independent country is relatively new. Despite being a unique and culturally rich land, it has been occupied for centuries. Sometimes it has been voluntary and other times not so much. Having to be constantly on alert has made for a very reliant people.
You would think all the centuries of being on defense Helsinki would be a war zone with hardly any culture, but that is not the case. When we were there we found the people to be very chill and very kind.
The ship docked a bit away from the city center. We could have walked but we opted to pay $10 euros to pay for a bus that would drop us off at the market. We had our Rick Steves guidebook with us that had a great self-guided walking tour of the city. We started at the docks, saw all the major sites of the city and then took a trolley back to the docks.
The city has an interesting mix between Russian and European designs. The city of Helsinki has some interesting buildings. I remember in particular going to the Church of Silence, which is is this silent oasis in the middle of the busy city. Also the Temppeliaukio Church is a Lutheran church built right into a stone rock. It is kind of interesting being able to walk on top of the church.
Back at the docks we finished our day eating reindeer sausages and having a local orange soda. It was a very interesting city and I hope to be back soon.