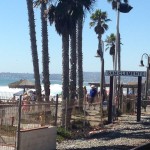 Today was the last day of Summer for AJ. Come Monday it is back to school. Most kids dread it, I know I did, but I guess school is more fun than when I was a kid, because AJ is excited to go back. On Friday Denise went to AJ's school and found out who his new teacher was going to be. Denise told me (John) who it was going to be but I already forgot, good thing I am not starting school on Monday!
Since Denise was gone on Saturday it was just AJ and me for his last free day of Summer. We are planning for a big trip soon so I didn't have a lot of money, but I found a twenty in my wallet. You'd think that twenty dollars wouldn't get you far, but thanks to Metrolink it got us plenty far. Two all day weekend passes for $20 USD were all we needed to get us to the beach.
What could be better than to spend the last day of Summer at the San Clemente Pier. The train literally leaves you at the beach. You get off the tunnel, cross under the bridge and there you are. The beach was busy but not crowded. We had fun playing in the sand, built the biggest sand castle of the day (with no shovel or pail, just seaweed and rocks), and kicked the soccer ball a bit. Traffic was bad on the 91 coming back, but we were on the train so we just zipped right by it. Definitely will be doing that again.