Hiking to Dante's Peak and Visiting the Griffith Park Observatory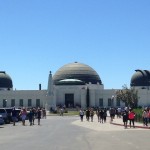 Last Saturday Denise's family decided to get together and have a picnic. Deciding we wanted to do a little bit more than a picnic we decided to go and do a little hike together. The original plan was to go all the way to the top of the Hollywood sign, but after research showed that it was going to be 6 miles round trip we opted for a shorter 3.5 mile trip up to Dante's Peak.
The hike up to Dante's Peak wasn't too bad. We got there at 9 AMwhich was good for two reasons. One, it wasn't too hot and two, there was still parking at the observatory. I think if we had gotten there 5 mins. later we would have been out of luck. The trail up to Dante's peak is well defined and offers beautiful views over Los Angeles and all the way to the ocean. Just before Dante's Peak is Dante's View. At Dante's view there are some benches and a water fountain.
After going taking in the views at Dante's peak we went had a little picnic back at the trailhead in a little campsite called the Berlin Forrest (LA and Berlin apparently are sister cities). We also went to go and see the Griffith Park Observatory. The planetarium shows cost about $7 dollars, but everything else is free. AJ was really enthusiastic about the lecture on how to build a comet. I on the other hand enjoyed a nap in an air conditioned room.
When we finally left Griffith park at about 2:00 PM. The place was packed! There was no parking at the observatory and the park rangers were diverting all cars off the road to the observatory. For us it was a great time, we were going the opposite way of traffic by that time and except for some minor stop and go on the freeway got home great.