Mission San Francisco Solano and the Sonoma Barracks, Sonoma, CA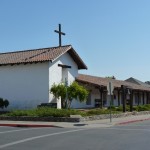 In 1819 Father Jose Altimira came from Barcelona, Spain to work at the Dolores Mission in San Francisco. He didn't like the mission in San Francisco because it was not adventerous enough for him and he found the foggy weather in San Francisco to be too cold. Getting permission from the Mexican Governor Don Luis Arguello he went north to Sonoma. This was a bit out of the ordinary because to build a Catholic church you generally want to ask the Catholic Church's permission, but this Father apparently wasn't much for details. On on July 4, 1823 Father Altimira established the Mission Solano and despite the minor faux pax the Catholic Church eventually sanctioned the last of the 21 missions. As noted Father Altimira was not a man for details, but he was a determined man and took 700 natives to Sonoma to help him build his mission. The natives didn't like getting resettled and were even less happy when Father Altimira and the soldiers whipped them. In 1828 the natives were done with Father Altimira and revolted. Father Altimira had to flee to Mission San Rafael and eventually made it back to Spain. In 1832 Father Buenaventura Fortuni from Mission San Jose took over the mission and made it into a success. He regained the native's trust and soon had 6,000 sheep and over 900 horses. This got the attention of the Mexican government and in 1833 General Mariano Vallejo replaced Father Buenaventura Fortuni with a Franciscan order of missionaries from the Mexican state of Zacatecas. This made the natives once again mad and so to control the mission General Vallejo built a barracks and housed a bunch of soldiers right next to the mission. Things at the mission did not go well with General Vallejo running the show and in 1880 the mission was sold to a shopkeeper who made it into a warehouse / saloon. Eventually, in 1903 the The Historic Landmarks League bought the property and after carefully restauring the mission and barracks deeded the property to the State of California in 1926.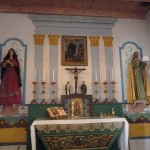 Today the Mission Solano and the Sonoma Barracks are park of the California Sonoma State Historic Park. For a nominal fee you can visit both the mission and the barracks on the same ticket. In general the buildings are a bit sparse, but the altar is nicely redone and the barracks has a very good museum. I also enjoyed watching the video about the soldiers living at the barracks.