San Francisco in 24 Hours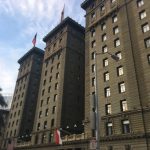 So, you are celebrating 15 years of marriage and don't have much time but your friends agree to watch your son for a while what do you do? 24 hrs. in San Francisco! Not an easy feat considering it is 450 miles (650 km) away but it is possible in just three easy steps.
Step One: Get a Plan Flight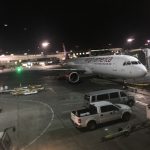 For our flights I used Flight Scanner. It is a website that allows me to compare different combinations of flights. For only $59 round trip I was able to find a flight out on Virgin Airlines and back on American Airlines from LAX to SFO.
This was my first time on Virgin Airlines. They are a good airline. They have a decent entertainment system, allow you to reserve your seat, and seats are comfortable. American Airlines used to be one of the three major US airline companies, but now international airlines are way better than US airline companies. My favorite US airline company is Southwest Airlines, but worldwide my favorite is Singapore Airlines (but I do admit I haven't flown with many international airline companies).
Step Two: Get a Hotel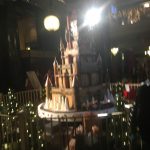 San Francisco is a very expensive place. People have been known to pay thousands of dollars per month for the ability to stay in people's living rooms. Everything in San Francisco is expensive. They say Manhattan is more expensive, but Manhattan has one dollar pizza, the only thing in San Francisco worth a dollar is an apple (which is also crazy to me). Luckily for us when we were in Phoenix I signed up for the SPG (Starwood Preferred Guest) Program. It was free and allowed us to get a group rate at the Westin St. Francis.
The Westin St. Francis is located on Union Square in San Francisco and has a lot of history. The hotel was first opened in 1904 by Charles Crocker, who was one of the original four railroad tycoons. In 1905 the hotel was ground zero for the great San Francisco earthquake, there was a lot of superficial damage, but the sub-structure had no damage. Due to this fact it became seen as the safest place in San Francisco and a mainstay for many famous people. In 1919 Woodrow Wilson stayed at the hotel and gave a speech about the US needing to join the League of Nations. We didn't do that and when World War II came the hotel became a transport center for troops going to the Pacific. After the war it became the place where Republican presidents stayed while visiting California, which is funny because in 1920 it was home to the National Democratic Convention.
The hotel is beautiful. Inside it was an art nouveau style with lots of marble and brass. The lobby was beautifully decorated for Christmas with multiple Christmas trees, one of which had a train and was made completely out of sugar. The elevator was interesting in that to activate it you had to insert your card and when you got in it knew where you were going.
The rooms (at least our room) was huge. The whole room was about half the size of our apartment. It had no kitchen but it did have a little living room and two closets. The bathroom was very trendy with many different soaps. I am sure they all had a purpose but I had no idea what they were all about. The shower was interesting because it had three shower heads; above your head, in the middle, and down low, water was everywhere. We paid $160, which is a lot more than we normally pay but we have paid more than this in the past and this was probably the best room I have ever been in.
Step Three: Find Things to Do
One of the reasons we chose San Francisco was that there was a game tournament called Ingress going on. Ingress is a game where you have to go an hunt down famous locations (San Francisco has a lot of them). We were part of the green team and won, needless to say we are very good at finding historical places.
Before the tournament we had a chance to walk around. We did a lot of walking. San Francisco is a city on a hillside so that meant there was a lot of up and down. When we got to the Ferry Terminal we found there was a Farmer's market. We got a lot of great (yet expensive) fresh food. Inside the terminal were many curious shops including a store completely dedicated to mushrooms.
Fortunately for us, it was crab season and we were able to find a little store with many crabs in a tank right in front of their store. They had some stools set up and the soup of the day was a Crab Curry Soup in a sourdough bowl. It was awesome, I love being able to eat everything. I feel like if I could I would have eaten the little paper plate it came on (but I didn't).
Coming Home:
San Francisco public transportation is surprisingly very expensive and so we found it actually cheaper for us to us Lyft (a taxi service) throughout the city. A one day visitor pass is $21 a day and don't come on demand. I spent $25 in taxi services through Lyft and they dropped us off wherever we wanted, go figure.
In LAX we parked in Lot C. Lot C is the extended lot that costs $12 a day. What I found out is that even if you are just two hours over, you have to pay for a full day. So it cost us $24 for the 26 hrs. that we were parked. Driving back to the Inland Empire at night was not so bad. Traffic was fortunately very light.