Mexican State Capitols: Cuernavaca, Mexico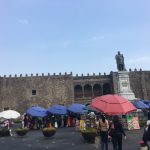 Visited November 25, 2017
Alexander Van Humbolt on his expedition to study the fauna of Mexico in Cuernavaca said that Cuernavaca was the "land of eternal springs." The city of Cuernavaca was established in ancient times and was firmly in control of the Aztecs when Hernan Cortez first arrived in Mexico. During Cortez's first pass of Mexico, Cortez marched right through Cuernavaca. He was kind of busy the first few years and didn't have time to circle back until about 1523. As soon as the Spanish government heard of Cortez's accomplishments in Mexico, the Spanish government sent in bureaucrats to stop him. Cortez may have had the drive to conquer the Aztecs, but he was no match for European bureaucracy. While he wanted to be Viceroy, it was very temporary. Dissolutioned with his loss of power in Mexico City, he made his headquarters in Cuernavaca. Complete with his own castle, Cuernavaca was the oasis Cortez had dreamed of when he first set out for new lands. At that time Cuernavaca was considered a far off district of Mexico City.
During the war of Independence Jose Maria Morelos was imprisoned in Cortez's palace during the war. When the war was over and Mexico was declared independence and the City was declared Cuernavaca free of Mexico City and made a distinct city of the newly formed state of Mexico. Later in the 1860s when the French took over Mexico, the government broke up the state of Mexico and the State of Morelos was created with the city of Cuernavaca being the capital city.
Today Cuernavaca keeps it colonial charm and history. Known as an artsy town there is plenty to see and do. The original fortress church known as the Third Order Church shows how the early church would have outside altars and protective walls. At the Robert Brady Museum you can see Robert Brady house and his art collection. Robert Brady was an American who moved to Cuernavaca and was friends with many Mexican artists in the 60s and 70s. When he died in the 80s the locals liked his collection so much they made a museum. Just outside of Cuernavaca is the Jardines de Mexico (gardens of Mexico). The cost is high for Mexico entrance at about $17 USD per person, but the place is huge and worth it. The goal of Jardines de Mexico is to showcase all of the flora and flauna of Mexico. It is a monumental task, but the work they have done so far is amazing.
Some of the local food we ate in Cuernavaca was Pozole (a turkey and corn homney based soup), flautas (really long fried taquitos), and cecina (very flat steak). In addition to traditional food Cuernavaca has plenty of modern food. We had fun hanging out a local pizza shop eating pizza and even checked out a McDonalds. Trying different food is always fun but it is also fun to see what different people do with more common food.