Pre-Dawn ETN Public Bus in Mexico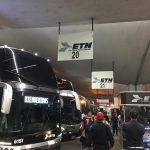 It is 4 AM in Aguascalientes and we need to continue on our way to Mexico City. We have two more days to get there and the distance is about 8 hrs. of driving on Mexican roads. We know nothing about driving in central Mexico so we opt for the public bus.
When most Westerners think about the public bus they probably think Greyhound. Greyhound will get you to where you need to go, but in an era of cheap flights there is no reason to take the long distance bus in the USA. That is, unless you just don't like taking long times to get to a place and want to spend the same amount of money as it would have been to fly. Not to mention the quality of the bus is going to be sketchy, the people and the bus. Greyhound buses recently added wifi but that is as far as the amenities go.
Mexico is a different ball game. Long distance bus travel is one place where Mexico has the USA beat. The buses are cheap, big, and come with lots of amenities.
When you buy your ticket you get to select your seat. I suggest you don't buy it in the back, it can get a bit bumpy. Also don't buy the first two rows or you will be listening to driver cumbia music your entire trip. I like the middle rows the best.
Many of the lines have their own special waiting rooms where you will find free wifi (as will many of the buses). Upon boarding you will be asked what kind of drink you want and be given a pastries and some cookies. If you go on a very long trip you will be given a small sandwich.
On the bus you will find plenty of legroom, an entertainment center, and charging ports.
So if you need (or want) to experience some intercity travel in Mexico you may want to kick your feet up and let the Mexicans do the driving.