Parcel 203-54-122 Willcox, Arizona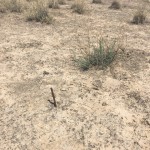 Willcox, Arizona is best described as a town that has been around for a long time that not many have heard anything about. My favorite band is a group called America. Their #1 song is "A Horse With No Name." I now wonder if they were in Willcox, Arizona when they wrote that song.
The town itself is kind of nice. It basically has two claims, Wyatt Earp who was shot there in 1900 and Rex Allen "the Arizona Cowboy" who called the town home until he died in 1999 in Tucson, Arizona.
I however was not visiting Willcox for either. About a year a go I bought a piece of property sight unseen and now it was time to see it. I bought it off a land website from a bulk land seller. The guy that I bought the property from had never seen the land either. This was evident when after I had obtained the deed I ended having to pay back taxes to clear the dead. In all it cost me a few hundred dollars for this land.
So the question becomes, what did I get? The answer is not a lot. Getting out to the land was interesting. There were roads, but they were of course all dirt road. Using my GPS I was able to get pretty close to the land, but I had to walk the last .25 miles. The land was flat but that is about it. The features are pretty much dirt and scrub brush. The closet tree was at least a mile away.
I have no idea what I plan to do with this land. To develop the land would probably require more money. That I really don't have. My best hope is that some developer comes in and starts to buy all of the parcels, but then with my luck I would probably lose my land to eminent domain. In the meantime I plan on just keeping up the $20 a year property taxes and every once in a while visiting it.
A video about the land: