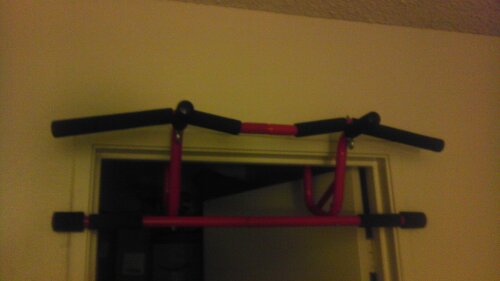 Several months ago I bought the above pictured pullup bar. I can't really remember how long ago, but it has been in that doorway a long time now. If I

could describe my overall health it would have been for a long time akin to an overweight T-Rex (I have to believe they existed). Very well defined eating muscles, big thunder thighs, but little upper arm strength. Yeah, I was good for an occasional bottle opening or moving several reams of paper, but let's face it my biceps usually stay hidden for good reason.
With the help of the bar I have been slowly trying to work on that problem. At
first all I did was just try to hang on the bar. After several weeks of hanging on the bar (I got to where I could hold on for about a minute) I got a stool, grabbed onto the bar, and let myself down as slowly as I could while still hanging onto the bar. Again after several weeks I got to the point where my descent was really slow. At that point I started to attempt chinups. Very close to a pullup, but the hands are placed under the bar instead of on top. It took a long time but I am now up to where on a good day I can do five chinups. Today after a bit of praying I was feeling kind of strong and I said to myself "Why not try a pullup?!" Then next thing you know I did one!
Just kind of out of the blue really. Reminded me of when my son started walking. He wasn't out of the normal range for walking, but I remember when he first started to walk. He had been able to pull himself up for quite a while, but he never seemed to go anywhere (most babies I have observed in the stage pull themselves up and walk using a sofa or a table.as support). AJ would just pull himself up, stand for a bit, and then sit down. Then just one random day he got up and started walking. He was very excited when he started walking. He was so excited these days (and it has been a few years now) he hardly ever stops walking.
Anyhow, doing that first pullup was just really random (like the above written paragraph). I immediately tried to do another pullup and failed. I couldn't even do a chinup. Just to confirm it wasn't a fluke, I did some situps for about 10 minutes and attempted a pullup again. Again just one pullup, but it was a pullup! I am super-excited, this is a first for me. I have never done a pullup before. I am not even sure why I wanted to do one in the first place. What does one do a pullup for anyway? Not like I plan on becoming a professional rock climber any time soon. I am still excited though! So here I am super-excited, up way to late, about something probably very mundane (did I mention I was excited). Such is my life, gotta love it!