Former YMCA Building: City of Riverside Landmark #41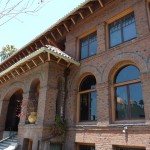 Location: 3485 University Ave.
Date Established: 1909
Date Visited: 6/13/2014
According to the YMCA's website their focus is to "bring about meaningful change in individuals and communities, we must be focused and accountable." The Life Arts Center started it's life as the YMCA (Young Men's Christian Association) in 1909 with the plaque reading "to the glory of God and the uplifting of man."
The building was designed by Arthur Benton (the same from the Mission Inn) and is done in an imposing red brick, Italian Renaissance style. There are plenty of arched windows and decorative awnings.
When it was first built it housed 25 rooms upstairs which were rented out as affordable hotel space and downstairs there was a gym with a pool. Today the top rooms are rented out as business spaces and the main floor is used for event planning (mostly weddings). In the back there is a small gym called "City Gym."
The YMCA ran the building from 1909 to 1968 when they moved to a new facility on Jefferson St. Unfortunately in 2013 the YMCA in Riverside abruptly ran out of money and so currently there is no YMCA (there is a YWCA) in Riverside.** In 1974 the original building was bought by a man named Bent Corydon, who had a long running legal battle with L. Ron Hubbard which ended in 1992 with Corydon winning ownership of the building. *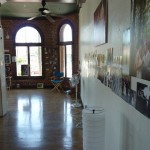 *Brandeis, Gayle (1 October 2012). "From Y to Art: The History of the Riverside Art Museum and the Life Arts Center". KCET Productions. Retrieved 1 November 2014.
**Robinson, Alicia (18 Januaray 2013). "RIVERSIDE: City wants to see YMCA reopen". Press-Enterprise. Retrieved 1 November 2014.