"Not Vegas" Mesquite, Nevada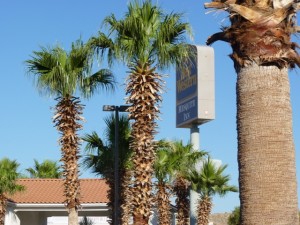 Traveling in the far west USA can sometimes be a moral dilemma for me. I love traveling through Arizona and Utah, but I can't stand Nevada. It isn't that Nevada doesn't have interesting things to do, but the major industry brings it all down.
When it comes to Nevada I try to pass through as quickly as possible. One might see that as a very "holier than thou" attitude, but for me it is quite the opposite. I already know I have several obsessive compulsive tendencies, so I know Nevada is dangerous for me.
Unfortunately the state is pretty big and if you are driving through it is very difficult to avoid altogether. This is the predicament I found myself last Friday. It was 10:30 pm and we had been driving since 5:30 that afternoon. I was personally willing to drive all the way to St. George but AJ and Denise were not buying into my plan. Tired and cooped up they were done with the drive. I was able to convince them to leave the bright lights of Las Vegas, but they made it clear we were stopping at the next place with a bed. That is how we found ourselves in Mesquite, Nevada.
Lest I be tempted to not stop, there were plenty of billboards announcing cheap rooms. These of course were all attached to casinos. For a person who wants to avoid casinos your choices are limited. There is only one chain motel (the Best Western). With taxes the bill to the Best Western set us back $80 dollars. It was way more expensive then all the other resorts. On the positive there was no slot machines, it had a pool, free WIFI, and a free continental breakfast.  There are several other independent motels that are cheaper than the Best Western, but looking at them from the outside they didn't look clean or safe.
I wish there were more chain motels in Nevada, but I just don't think they can compete with the casinos.