Nevada State Capitol, Carson City, Nevada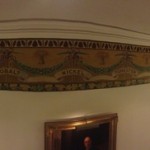 Date Visited : May 13, 2016

As part of our continuing quest to visit all 50 of the state capitals we visited the Nevada State Capitol in Carson City, Nevada. Kind of like Arizona we found that the original State Capitol is old (built in 1871) and only houses the Governor's offices. Originally, the building also held the Supreme Court, Legislature, and state library. All those functions now have their own buildings close to the State Capitol building.
The State Capitol building is currently undergoing refurbishment. Looking at the various plaques on the walls it looks like this has been done several times. Inside we met with a State Capitol Police Officer. He was very friendly and invited us to ask him any questions. He handed us a map and told us we were free to pretty much go wherever we wanted. You might be skeptical of that claim, but it was true. The building was really quite open. They let us go into the offices, sit in the old Supreme Court chairs, and even let us examine the inside of the state safe! Which by the way despite having very heavy doors was very ornate with murals on the outside and inside doors. The only place we couldn't really go was the old assembly chambers because of the construction. Other than that though everywhere was open.
Just outside the building is a park with many memorials and other government buildings. The main ones to note were the Nevada State Assembly Building and the Nevada State Supreme Court. The city of Carson City is kind of a mid sized city. Like all Nevada cities, there are casinos, but they are not outlandishly flashy like the ones seen in Las Vegas. The city still retains it's late 1800's charm and we enjoyed the short drive out to see the Governor's Mansion.
Here is a little video of us walking the grounds:

The Nevada State Capitol Building is located at 101 N Carson St, Carson City, NV 89701 in downtown Carson City. It is open Monday through Friday from 9 a.m. to 5 p.m. Admission is free.