Mission Santa Inez, Solvang, California December 2010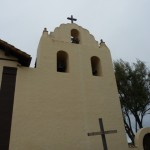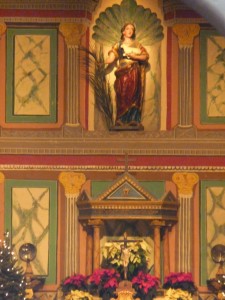 I don't have a daughter but if I did I don't think I would name her Inez (Agnes in English). The Santa Inez mission is named after Saint Agnes. One of the earliest saints she is known as one of the first Christian martyrs. According to the story she was a daughter of a an early christian family who were also Romans. Being very beautiful, a prominent Roman young man asked to marry her. She refused, he asked why, she said she was a Christian (and he wasn't), and so soon she was dead.
Rather a sad story, but wanting to appeal to more women the missionaries used her name when building the 19th mission in 1804. The name worked because the Santa Inez mission originally flourished, until about 1820 when Mexico took over. Then the soldiers didn't get paid and were told to get their debt out of the Native Americans. The Native Americans didn't like this too much and in 1824 there was a major revolt. The mission wasn't the same after that revolt and like many missions went into disrepair. In 1926 with major financial support of William Randolph Hearst the Capuchin Franciscans took over the mission and began major restoration work on the mission.
Thanks to those efforts the "Mission of the Passes" (it is right in the middle of a old mountain pass) is an open and thriving mission. There is a little museum you can visit M-F 9am-5pm on most days except for major holidays.