Mexican State Capitols: Pachuca, Hidalgo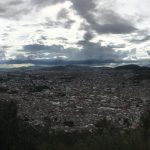 Visited: October 11, 2019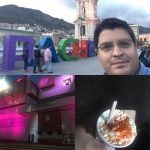 Nobody really knows the origin of the word Pachuca. The theory I like the best is that it comes from the word pachoa, which is Nahuatl for opening. I like this idea because Pachuca to me is best described like an opening for many mini-adventures. The city is built in a valley (which makes for a lot of windy roads) with lots of little towns that surround it.
When the state of Hidalgo gained it's independence, it kind of rejected all things Spanish. They weren't much into the French, so they went for the English way of life. The English for their part were very happy to help with mining but they brought a lot of strange quirks with them. The Cornish way of life they call it and the influence becomes very apparent right when you get in the center of town. Just like Big Ben has this giant clock tower in what is called La Plaza de la Independencia (Independence Plaza), it has the same inner-workings like it's namesake. The English brought with them other things too like Soccer, Pachuca soccer team was founded in 1901 and is the oldest soccer team in Mexico and one of the oldest soccer teams in the Americas. The last thing the English brought with them was their food, pasties are a state dish in Hidalgo. You can find them everywhere, but they have been Mexicanized so in addition to finding meat and potatoes, you will also find pasties filled with suadero (mixed meats), guizo (stew), and anything they can fit in the dough.
I got to Pachuca by taking an afternoon bus from Queretaro that cost me about $20 USD. The ride was comfortable. Before I set out for Pachuca I had gotten on Booking.com and got a $26 dollar room at a place called Hotel de los Banos. It was a clean place but the elevator didn't work, the bathroom was very small, but worst of all the room only had one electrical outlet and it didn't work. It kind of let me in a dilemma and I was walking around at night without a hotel, which is not a good thing but luckily I was able to find a room not too far away at a place called Hotel Emily. It was $50 a night but it was what I would consider a luxury room (fast wifi and carpet floors) for Mexico standards.
Although you can visit Pachuca in just one day, that would do the place injustice. Mostly I used Pachuca as a base city. The real adventure is when you head to the hills where you will find mines, lakes, and even trolls.
Video: