El Camino del Paste, Hidalgo, Mexico Part 1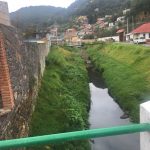 So when I got to Pachuca, like I usually do, I hopped in a taxi and went to my hotel, which was about 10 minutes from the bus stop. Making small talk with the taxi cab driver I asked him "If you only had one day here what would you do?" He surprised me by saying he wouldn't stay in the city at all and proceeded to list like 8 different things up in the mountains.
He called it El Camino del Paste, the Pasty Trail. Pasties are a state dish in Hidalgo. This intrigued me and so I said how much would this cost and he said $2,500 pesos (about $125 USD), so I said OK let's do this and that is how we started this adventure up into the twisty mountain roads that cross through the state of Hidalgo.
The first town we visited was Mineral Del Chico. To get there we had to travel through the Mexican National park of El Chico. It was slightly raining while we went up and there were lots of rivers, streams, and even random waterfalls. Mineral del Chico is an interesting town to visit. It is a Pueblo Magico and so it is very unique. It has a small and has a church, plaza like most Mexican cities, but what sets it apart was that most of the buildings were made out of wood and had slanted roofs. As the name implies it used to be a small mining town and so on the outskirts of town you can see remnants of it's mining history.
The next town we visited was called Omitlan de Juarez. This town distinguished itself during the French invasion for being a hold out down. Omitlan had a beautiful plaza with hedges shaped into many different things like animals and dancing people. It had a little hilltop church with a little cemetery.
From Omitlan we drove out into the forest some more on a very bumpy road next to a rock quarry and ended up at Zembo lake. Zembo lake is a very small lake, I would almost call it a pond, but you can go fishing there and there are these little restaurants that will cook your fish on the spot. It cost $30 mxn a day to camp or just visit. While we were there a little kid with a little bit of string and a worm showed us how to catch a carp. I enjoyed walking along the stream that fed the lake.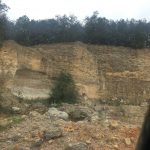 Lake zembo is also important because it is a trout fishery that supplies most of the local trout to the area.
In the mountains there were a lot of horses. As we were leaving Lake Zembo we saw a little procession of horses. Little did we know this was going to be something bigger, but that is for the next post.
To get around the horses we diverted around a lake called Presa San Antonio, which is also where they have a Hacienda called Hacienda Santa Maria Regla. Today the old hacienda is a hotel and it is semi famous because they filmed part of the movie the Mask of Zorro on location.
Our destination by the lake was Las Prismas Balsaticos, a UNESCO world heritage site, which is actually kind of a beautiful tourist trap. You pay $100 pesos per person and you go to this park that is nothing but tacky knick nack shops. Which you have to walk through to get to where you want to go which is the waterfall. The waterfalls were made when a lava flow hit a river, it reminds me a lot of Devil's Post-pile near Mammoth in California.
Well, this was part one of our Camino del Paste tour, thank you for visiting. I have a little video below to get some more visuals. In the next blog post we will explore some more mountain towns and you will see why my taxi cab driver called it the pasty road.
Video: