Malinche: A Denial of Mexican Identity
In 1977 the Spanish dictator Francisco Franco died and Mexico began formal diplomatic relations with Spain. During the dictatorship many Spanish citizens fled to Mexico for political refuge, but the thing is Mexico didn't want them. The hate wasn't all that unfounded, the whole come in and enslave the country back in 1521 left a few resentments, 300 years worth of resentments. It took some convincing to get Mexico to accept these people.
The Mexican president at the time was Lopez Portillo. The funny thing about Lopez Portillo was that technically he wasn't considered a dictator but he ran virtually unopposed. Back then there was other political parties but everyone knew the PRI party was going to win. In 1982 when he left office he personally picked Miguel de la Madrid to be the next president and everyone in Mexico knew that he was going to be the next president.
In the late 70s and early 80s Mexico experienced a major economic crisis. The market dipped and Mexico kind of went off the rails. In an effort to help the situation the Mexican president decided to invite foreigners into the country. In particular he invited Spanish refugees, but as mentioned people still remembered the 300 years of enslavement, so there was a bit of a PR campaign needed.
The PR campaign consisted of a big international summit in 1981 in Cancun and in 1982 the President commissioned this statue: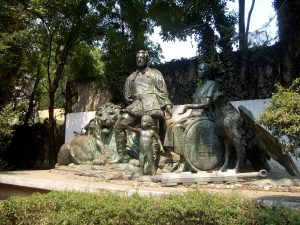 Called "Monumento al Mestizaje" (Monument to the Mestizo) by Julián Martínez y M. Maldonado, it portrays Hernan Cortes and Dona Marina (better known as "La Malinche")presenting their first born son Martin, the first child born of two continents. This was placed right in front of the old Hernan Cortes palace in Coyoacan, a very prominent position, which was good because it is kind of a prominent monument.
The thing is the people hated it, but they couldn't say anything about it because it was Portillo's monument, and he was the president. The monument didn't stay in that position for very long. The economic crisis got worse and very soon after Portillo left office the monument left was well. It didn't go too far, but got moved to a little known park called Jardin Xicotencatl. Which is kind of appropriate because Xicotencatl was the name of a Tlaxcalan general who almost wiped out the Spanish when they came out of Veracruz but then made a treaty to defeat the Aztecs.
The statute was not liked because of a phenomenon known as Malinchismo. Malinchismo is the idea that a person is going to form an attraction to a person from a culture not of their own. Do not confused this with machismo, which is totally different. The embodiment of malinchismo is Dona Marina, who is better in known in Mexico as La Malinche "the traitor".
Dona Marina in my opinion gets a bad rap in Mexican culture because she is seen as a traitor, Malinche. The thing about this, as you can tell by me calling her Dona Marina, is she was betrayed first. Know one knows exactly when she was born. Her local name Malinalli, means unlucky day, but might not have been even her original name, although she was unlucky (at first). She was born as a daughter of a cacique (chief) of Paynala (an Aztec district), but when we was a little girl her father died and her mother married another cacique. That guy didn't like her because she was a chief's daughter (when your royalty you gotta worry about usurpers) and so he sold her to Mayan slave traders. She went south as a slave, learned Mayan, and then when the Mayans found out she could read and write they decided to sell her back North to the cacique of Tabasco. The people of Tabasco got conquered by the Spanish relatively quickly. The Spanish conquerors made a base in Tabasco and Malinalli made friends with a local priest and learned Spanish. When the Spanish finally decided to move forward the people of Tabasco made a peace treaty with the Spanish and Malinalli was given over to the Spanish (along with 20 other women) as part of the deal (sold again). When she was sold the priests gave her the name of Dona Marina.
Hernan Cortes found out about Dona Marina from the priests that she could speak Aztec, Mayan, and Spanish. This made her very valuable as an interpreter. At first Cortes needed a priest and Dona Marina, but then she learned so much Spanish that Cortes just went with Dona Marina. The two were very close. So close that all the Aztec codices that talk about Cortes have the two of them together. The Tlaxcalans, who were the main allies of the Spanish in the Americas, called her Malitizin, the "tizin" part means "she who speaks". It was kind of like calling her royalty, like saying Lady Marina. None of the locals understood Cortes, but they did understand Malitizin, that was a lot of power.
A lot of power that the people didn't like. As mentioned Cortes and Marina had a child together. The two were not married but Cortes recognized his first born Martin and even sent him to Spain to get educated. Where he grew up and advocated for the rights of Mexicans in Spain, but the Spaniards didn't like the idea of civil rights for Mexico and so they shipped him off to Mexico. The Mexicans didn't like Martin because he was the son of Cortes and so they killed him. In the end only Marina loved Martin. Hernan Cortes never married Dona Marina, he ended up arranging her marriage to one of his lieutenants, Juan de Jaramillo, who got her pregnant with her second child named Dona Maria (which is a name also used for comedy in Mexico), and then they went marching into Mayan territory, where she died while her daughter was still a baby.
So all that leads us to this: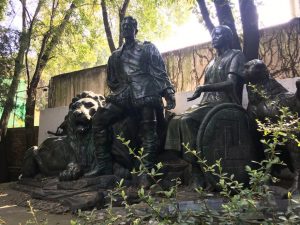 Notice the statue of Martin is missing. The funny thing about this is the previous picture was taken in 2009 and nobody really noticed it was missing until 2018 and even then nobody cared. I went with my brother, who lives in Mexico City, to visit the statue. Jardin Xicotencatl is not a very well known park. It has this wall around it, so if you didn't know about it, you could easily walk right by it without ever noticing it. It looks like the park used to be very nice, but now is mostly forgotten. Which in the end is probably fitting because not many people ever cared about Martin Cortes and the real story about Don Marina is largely forgotten as well. I understand the hatred towards Cortes, but the manifestation of that hatred in Dona Marina is misplaced. About 85% of Mexicans today are Mestizos, meaning they have both Spanish and Native blood, so saying they hate Dona Marina is to me almost like saying they hate themselves. There is nothing wrong about being mixed blood. Instead of the statue disappearing, the cultural phenomenon that is malinchismo needs to disappear.
Video: