The Jarvis House: Riverside City Landmark #78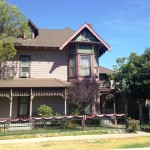 Location: 4492 12 St.
Date Established:6/2/1888
Date Visited:6/20/2014
According to the book Landmarks of Riverside (pg. 59) there was a real estate boom in 1887. The Jarvis house began in May of 1887 when according to San Bernardino County Recorder's Records, Emil Rosenthal sold his house plans and seven lots to John T. Jarvis. Emil Rosenthal and John Jarvis met by way of John Jarvis' brother Dr. Joseph Jarvis, who had arrived in Riverside in 1877.
John Jarvis is best known in Riverside for being a city councilman in Riverside for 12 years and being the mayor of Riverside from 1926 to 1927. Before going into politics John Jarvis was first and foremost a business man. He helped start many companies including the Royal Steam Laundry, Citizens Bank, and the J. T. Jarvis & Company (which later became Rouse's Department Store).
Despite being a descent real estate agent and horticulturalist John Jarvis was negatively affected by the bad turn in the housing market in 1887. The house cost $10,000 dollars at the time to finish and was constructed by a man named Charles T. Rice. Unfortunately by the time it was finished there was no money to furnish it according to the story published in the Riverside Press and Horticulturalist.
According to the book Adobes, Bungalows, and Mansions of Riverside the house was changed in July of 1914 from a Victorian Gothic style house to a bungalow style house.
The house today looks a lot like it does in it's 1920's picture. The only difference is that of the wrap around porch which has definitely been modified (and the trees have changed). While the official address is on 12th St., the house is easier viewed from it's cross street of Redwood Drive.