Cressman House: Riverside City Landmark #37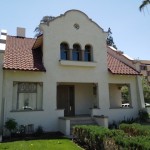 Location: 3390 Orange Street
Date Established: 8/15/1902
Date Visited: 5/12/14
The Cressman house came from the designs of Los Angeles based architects Burnham and Bliesner, who also designed the Riverside County Courthouse. The home was finished in 1902 and is done in a Mission Revival style design.
The two story building was built for Charles H. Cressman who was a Sheriff Deputy. According to the book Adobes, Bunglows, and Mansions of Riverside, California (by Klotz and Hall) Mrs. Cressman and his family did not live in the house very long and moved out in 1908.
The home has had a lot of owners over the years. It seems that the longest owners of the home were Dr. and Mrs. Herman Wickman who lived there for 30 years (Klotz & Hall, 1985, p. 140-141.). Mr. Wickman . Evergreen Memorial records show that Dr. Wickman was a well known doctor in Riverside who died in 1938. It continued to change hands and by 2012 was sold by foreclosure to a civil attorney named Boyd F. Jensen who set about renovating the property to be used as a law firm office (Press Enterprise, RIVERSIDE: Historic home restored as law firm, 2/21/14) .