Free Arts Day on Grand Avenue / MOCA LA / Little Toykyo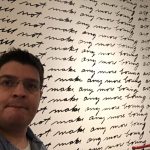 Saturdays is usually a free day for me, I was supposed to go to the Franchise Exposition Fair in downtown LA but some church stuff came up so I wasn't able get out at 8 am when the morning train from Riverside goes to LA so I missed the exposition fair.
By the time I got done with my church duties it was late morning, almost afternoon. Having missed the bus but determined to do something "fun" for the weekend Denise was kind (after I took her and AJ to Sundowners) to take me to the Fontana train station where I was able to catch an afternoon train to LA.
I knew getting on the train there was no way I was going to be able to go to the fair on time so I did a quick Internet search on my phone and found out that all the museums on Grand Avenue were having a Free Arts day. This is the good thing about Los Angeles, there is always something going on. So I got off at the Grand Station, walked up the hill to Grand Avenue and explored the Free Arts Day.
I was late for most of the festivities but one cool thing about Free Arts Day was that all the museums on Grand Avenue was free. I have been to most of the museums on Grand Avenue but I haven't been to the MOCA. Normally, the MOCA (Museum of Contemporary Art) LA is not free. It usually costs $15 unless you are a member, but they do have some free hours on Thursdays.
The MOCA in LA is actually a network of three museums. The museum at Grand Avenue is the headquarters and there are other locations at the Geffen Center (warehouse district) and the Pacific Design Center (in West Hollywood). The location on Grand Avenue has a permanent collection and a rotating temporary exhibit. The temporary exhibit that I saw was called One Day at a Time Manny Farber and Termite Art.
I have to say that I am not the biggest fan of modern art but it is fun to go exploring. After visiting the museum I took the funicular down the hill and walked over to the Bradbury Building. This time it was actually open. It was a cool building but it was kind of crowded. They only let visitors on the first floor. A bit over hyped in my opinion but how could you not visit the oldest commercial building in Los Angeles.
After exploring I took the metro to Little Tokyo where I was able to find a okonomiyaki (Japanese pancake). This store specialized in Hiroshima style okonomiyaki, which is pancake, cabbage,noodles, pork, and assorted vegetables. It cost about $16 and was HUGE, but it was fast Sunday (starts on Saturday afternoon) so I figured I could handle it. After my huge lunch I finished the day looking at anime (Japanese cartoon) figures. I was then able to take the 7 pm train back to Riverside where Denise picked me up.