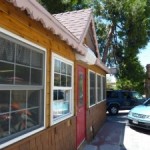 If you drive far enough along Hwy. 173 you will pass through Cedar Glen. Most people pass it on their way to the back side of Lake Arrowhead. Most people who pass through Cedar Glen will not notice much. Along the highway there isn't really much to look at, just a small market called Jensen along with a little gas station. The tall trees hold much more to those who take a little time in this mountain community.
Probably one of the best "not so well" kept secrets in the Cedar Glen Malt Shop. A small unassuming place it is very easy to miss. There is only a little sign in the front that denotes it as a malt shop, but I am guessing it is because the owners don't want to be overrun by too much business. If you go there on a Saturday afternoon you will probably have to wait a little to be served but it is worth it.
The menu is very simple. Sandwiches, hamburgers, and of course ice cream. Nothing really fancy but with it's 50's decor it definitely has charm. Prices for the sandwiches range between $5-$10 dollars and come with french fries. Ice cream will run you between $1.60 for one scoop to $6 dollars for the Banana Split (your fault for the stomach ache if you finish).
If you have a little bit of time I suggest you check it out. They are open daily 11am-5pm. To get there from Lake Arrowhead turn right onto Hook Creek Rd. (the road right behind the Jensen's Market). Go up about a mile up the road (remember to turn left to continue up Hook Creek Rd.) and you will see it on your right. The address is 2915 Hook Creek Rd.