California Super Bloom, California Poppies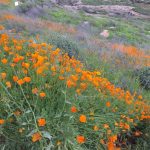 The California Poppy is the state flower of California. They are wildflowers that like to live on mountain tops and require a lot of sunshine to bloom. We get a few of them every year in our local mountains. The 2019 rainfall however has been super heavy, so much so that California is now out of it's seven year drought. This has caused the poppies to go into a super bloom.
Flowers bring out the intragrammers and therefore bring out the people in masses. People's social media is full of people supposedly sitting by themselves in the flower beds. The truth of the matter is that if you go out to see the super bloom, it will be beautiful, but you will definitely not be out there by yourself. Don't be fooled by my pictures, my video shows you the real deal. The good news is the flowers can be viewed for free by hiking in to Walker Canyon in Lake Elsinore.