AJ Meets the Stars, Universal Studios, California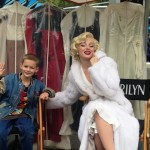 Last week AJ and I took the Metrolink (commuter link train) into LA and took advantage of our season passes to Universal Studios. For just two people the Metrolink is far more convienant than driving. It only costs $10 and includes all transfers for the day. I figure for $20 I couldn't beat the gas, plus parking, plus wear on the car, and most important frustration with LA traffic.
We really didn't have an agenda when we got there. The weather was a bit cold and overcast, but that was good because there wasn't hardly any crowds. Not only did we see all the shows and attractions (except for Crusty Fun Land because we don't really like the Simpsons that much), but we went on several of the attractions twice. AJ decided that his favorite show was the animal actor show.
Since there wasn't a lot of lines and we were just wandering the park, we got to see a lot of the actors roaming the park as well. We didn't ask for any autographs, but we enjoyed taking pictures.