A Ride on Angel's Flight into Downtown LA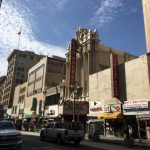 Up until the 1950s, when the freeways in Southern California were expanded there used to be a thing called the Pacific Electric Railway. For no more than 25 cents you could get anywhere in Southern California. The last red car ran public service in 1961. Driving cars in California might have been novel and fun at one time but now driving is more of a nuisance. Our freeways are usually over congested with grumpy drivers who will often perform risky manuevers just to get one car length ahead of you, and don't even get me started on how it is when we get that occasional rain!
Luckily, Southern California has recently come to it's senses and we now have the Metrolink. I love riding the Metrolink on Saturdays. Every Saturday (and Sunday) the Metrolink costs only $10. For that $10 you can go almost anywhere in Southern California and many times transfers (especially in LA) are free all day long.
This last Saturday we spent our time going to the Historic Downtown LA area. Our goal was to see Angel's Flight, America's oldest and shortest funicular railway. A funicular railway is a train that instead of going sideways, goes up and down. Angel's flight started in 1901 as a way for Angelenos to get from Grand Central Station (which is now a Market) to Bunker Hill (which was a residential zone). Angel's Flight was closed in in 1969 when Bunker Hill was rezoned as a Financial District.LA never forgot about Angel's Flight but it wasn't until 1996 when money was found to reopen it at it's current location.
The old Angel's Flight was very dependable. It never stopped, not even for the sailor in 1943 who tried to walk on it's rails (his outcome was fatal). The current Angel's Flight has not been so dependable. When it was rebuilt, they added in new technology,but forgot some other more important technology. The most important being the secondary backup chain. In 2001, the primary chain broke and unfortunately there was another death, so it closed again. It had many open and closures. Surprisingly, it wasn't until they fully restored the railway, complete with secondary cable and original brake backup systems did it once again work. Sometimes old technology is the best technology.
The railway ride is very short, less than a minute long. You pay at the top station. The cost is a $1 or only .50 cents if you have a valid metro or metrolink ticket.
After our ride on Angel's flight, we headed back down to broadway where we visited Clifton's. Not only is it the largest Cafeteria in the world, it is one of the oldest, having been established in 1932. It was established in the depression as a place for everyone. The original model was "pay what you wish." Unfortunately, too many people took advantage of that and what was once a chain with over 10 different themed restaurants dwindled down to just the current location in Los Angeles.
The good news is the cafeteria has been fully restored and though it is no longer "pay what you wish." It is quite the experience. The meals average around $15 (depends on how many items you take) and are good unto themeselves, but the place is more about ambiance. Inside there are many stuffed animals including a bear, a buffalo, and a lion. There is live music, 20s style posters, a castle tower, secret rooms, and even a secret forth floor (which I never figured how to get to). Just remember eat first, explore later.
After the meal at Clifton's we went the the famous Biltmore Hotel. The Millennium Biltmore in Los Angeles opened in 1923 and is not only a marvel of beauty but has been home to many historic events. The most renowned of which probably was that in 1927 the Oscars were concieved in the Crystal Room. In fact eight Academy Awards have been held in the hotel. In 1960, President Kennedy gave his acceptance speech in the lobby. In 1964, the Beattles flew by helicopter unto the roof to stay the night. On the more obscure side, it was in 1947 in the telephone room, that last time anyone saw the Black Dalia alive.
While we were there, there were many weddings being held. I later looked up the prices. The presidential room was expensive, but the regular rooms were reasonably priced.
After the Biltmore Hotel we went to Pershing Square and had some fun before it was back to Union Station to catch the train back home.
Another video of our adventures: