A European Adventure: Los Angeles to Madrid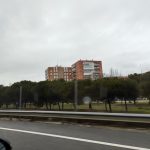 So the plane flight to Madrid we were booked with Delta. At the request of the family I tried to avoid booking a red-eye out of Los Angeles. Our first flight was supposed to leave at 9 am but the first flight from Los Angeles to Atlanta was changed and so the flight was at 6 am, which meant for an international flight we had to be at the airport at 3 am, we actually got there at 3:30 am, but it didn't matter because the TSA screening area wasn't open until 4 am. I didn't take too many pictures on the first section because I was tired and mostly just slept all the way to Atlanta.
The flight plan for the first part of our trip was to go from Los Angeles to Atlanta and then from Atlanta to Madrid. For this trip we booked via Delta airlines. You would think I would get one of those fancy credit cards that reward you with lots of frequent flyer miles because we fly a lot, but we tend to get our flights from several different airlines so frequent flyer miles don't usually apply for us.
One of the ways that I get really good flight deals is that we fly a lot of red-eye (really early or really late) flights. The family has been complaining about this for some time and so I relented a little bit on this trip and made sure the flight started at 9 a.m., but about two weeks before our flight left I got a notification the first flight was going to be leaving at 6 a.m.
In order to to make the flight we had to leave our house in Riverside, CA at 2:00 a.m. Luckily for us there wasn't much traffic and we got to the economy lot E ($12 dollar per 24 hours) just past 3:00 a.m. and got to the terminal by 3:30 a.m. We were a little later than the three hours they tell you for international flights but it didn't matter because TSA didn't open until 4:00 a.m. We were first to go through the security screening and had plenty of time to get to the boarding gate. The flight left at about 6:30 a.m.
I didn't take many pictures of the first flight because I was tired and mostly just slept on the first flight. I have been blessed since I was young that if I am tired I can sleep almost anywhere.
Arriving in Atlanta we had four and a half hours before the Madrid flight. I thought briefly about going into Atlanta but I really didn't have much time and it started to rain, so I decided to join the rest of the family that had gone to the Priority Pass Lounge in Terminal F, which is the international terminal in Atlanta.
The Priority Pass lounge was called Club at ATL. It was a nice lounge, but there were lots of people there. Luckily, there was a table for us and AJ was able to get some homework done. We had gotten priority passes from a Groupon special. Priority Pass lounges are nice but I doubt we will be paying to renew our passes. I think you can still have a nice layover by paying regular prices for food and walking through the terminals. Most airports have interesting displays. While we were waiting for our flight we enjoyed guessing who was in the art in our terminal.
As I said F gate is the international gate but Delta decided E gate was better so we took another train to the E terminal. Right before we got on the plane I exchanged money to get 100 euros so we had some cash as soon as we landed. When we went it was cost $1.10 USD for 1 Euro. So it was pretty much even prices, I just figured the extra 10 cents was like a tax on foreigners.
The flight from Atlanta to Delta was pretty good. We flew Economy class so we were in the back of the plane. The way our seat assignment ended up it was Denise and I sitting together and AJ ended up at another seat. The onboard entertainment was pretty good, it had 100s of shows and movies on it, which was good because the flight out of Atlanta to Madrid was about 9 hours. They had a monitor and USB charging at each chair. The flight had wifi but it cost $25 dollars so we skipped it. The flight came with this schedule that was also our menus. The food wasn't the greatest but they did give us some options. I ended up getting the shrimp and the raviolis, which were OK to me but the rest of the family thought they were too spicy. I was OK with them, just were a bit peppery to me.
The time passed quickly and soon we were landing in Spain. Getting into Spain I was very surprised how fast customs took us. It was only like 10 minutes and most of that time was because the customs agent wanted to talk to us about the time he visited Los Angeles. Basically the interview was "Are you an American", "Yes", stamp. When we got past customs it was a good thing I had exchanged some money because we found out our phones did not work in Spain and we used the money to buy sim cards in the airport. Which we used to get an uber to our hostal. We bought our sim card from Tutto Mobil, but looking back on it they were too expensive and even though they said our sim cards would work in Europe they didn't.
The Uber situation was interesting at the airport. Kind of like LAX you have to go to a special parking lot and wait for your Uber. The airport was about 30 minutes from the city center. My first impressions of Spain through the eyes of an Uber were that the highways seemed very efficient and no one lived in houses, only apartments.
For sleeping accommodations we were at the Hostal Alaska. It was kind of interesting. From the street you would never know there was even a hostel. It was just a door with a small blue sign that said Hostal Alaska. The two main things it had going for it was an excellent location (only a block away from Puerto Del Sol) and it was very cheap. The staff was friendly and was more than willing to help us out. It wasn't the fanciest place but we enjoyed it a lot, it had what we needed, which was mostly a bed and working shower.
Video: