US State Capitols: Baton Rouge, Louisiana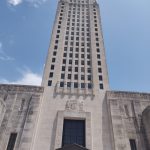 Date Visited: May 23, 2020
There have been humans in Baton Rouge for a long time, archaeological digs suggest maybe as far back as 12,000 BC. The first white men to come to the area were French explorers and they saw a red stick that marked the hunting grounds between two tribes so the called the place Baton Rouge. The city was incorporated in 1817 and has changed ownership many times. In addition to being part of the United States, Baton Rouge has been Spanish, French, British, Confederate, and part of Baton Rouge (St. Francisville) was even the capital of the briefly formed Republic of West Florida.
When Louisiana was purchased from the French in 1803, New Orleans was the capital. New Orleans however was considered too "sinful" of a city and the capital was moved to Baton Rouge in 1847. The original Baton Rouge capitol was built in 1847 along the Mississippi river and very gothic, kind of like a castle fortress without a drawbridge.
The present day capitol building in Baton Rouge was inaugurated in 1932 and is a 34 story limestone skyscraper. The building is forever known as Huey P. Long's capitol. A controversial figure in Louisiana, he wanted the capitol building to fit his vision of "every man a king". Ironically, he would also be shot there and now is buried in front forever facing his capitol building.
The town of Baton Rouge is a lovely place to visit. To get there we rented a car from New Orleans that cost about $80 with insurance. The people are more than kind. In fact when we were at the capitol we saw a prayer group that insisted in giving Denise a blessing (probably due to the shady company she was keeping). The drive along the river is spectacular and it was in Baton Rouge that we were introduced to shrimp and grits, which sounds horrible, but it is delicious. As if that weren't enough, we were plied high with beignets (Louisiana doughnuts).
Video: