Welcome to Delmonico's, NYC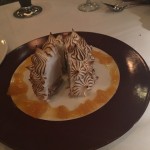 Last month I reviewed the Sundowners Delmonico Steak in San Bernardino California. If you missed it (how could you have done that), here is the link: http://www.johnpedroza.com/blog1/sundowners-family-restaurant-delmonico-steak/
Due to this it was natural that we had to go to the real Delmonico's in New York. Why Delmonico's? Well we have to tell you a story…
The year was 1825 when the first steam ship from Albany in New York arrived on the Manhattan bay. Stepping off the ship was the esteemed guest, the one and only, Marquis de Lafayette. It was at that moment the United States suffered a major diplomatic embarrassment. There was no place for this man to eat. The existing taverns and inns were not the type of place a man like this would want to be seen at and the newly created coffee house did not serve enough food for a group setting. Luckily, a few families got together and agreed to host the Marquis de Lafayette, but not before his couriers dispatched the news to Europe that the United States had no restaurants, not even a small cafe. Hearing this, two years later, two swiss men, John and Peter Delmonico decide to establish the United States' first restaurant. Actually, they started two business, a restaurant and a corner store. The corner store did not do too well. The restaurant went on to fame. Don't believe me? Watch this:

DRG – Chef Billy reel 2015 from NYC Restaurant on Vimeo.
Delmonico is known for many things but mostly for it's steak, the Delmonico cut. The Delmonico steak is a special steak that combines both a ribeye cut that resembles a filet mignon and a strip steak (which by itself is known as the NY steak). What makes a Demonico cut special is by cutting the steak in this way it makes the rest of the ribeye only good for stew meat. The benefit being the steak is extra thick and very moist.
There was no question I (John) was going to order meat when going to Delmonicos. What I didn't know is that I could up my game even further and get a 45 dry aged rib-eye. This is considered the best of all meat, all the fat, no tendons. It also gives the meat a different flavor from sitting for that long. In order to do that you have to have a special refrigerator, so as to age the meat, but not let it go rotten. I ordered the steak medium well, which is when both sides are brown but there is still some pink in the middle. The presentation was good, but it came out medium. That is when is light pink on the outside, dark pink in the middle. That was Chef's suggestion. I tried two bites, the second only at the waiter's suggestion that I try again, but it wasn't that great. I sent it back do get a little more heat. On the second round it came out perfect. I asked for some horse radish sauce but it really didn't need it. It was good on it's own. For a side I had an asparagus and broccoli dish that was infused with walnuts. For dessert we shared a creme bruelle and a baked Alaska, which is ice cream inside a baked meringue cake.
Cost wise it was an expensive meal but it wasn't the most expensive meal I have ever had (that was Victoria and Albert). Considering the exclusivity of the restaurant and that we had our own waiter (he only was at our table), it wasn't that bad. The ambiance was very nice and the staff was great. We were very appreciative of the courtesy afforded to us even the only coat we had for coat check was a raincoat. I do have to say although it was fun I still consider us more of a Sundowners type of crowd. It was great steak but I am not sure it was worth 10 times what we paid back in California.