Victoria Avenue: Riverside City Landmark #8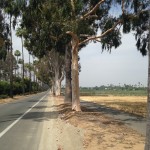 Location: Victoria Ave (starts at University Ave. and ends at La Sierra Ave.)
Date Established: Spring 1890
Date Visited: 06/07/2014
One of the benefits of living in Riverside is that living here you are in a fairly decent sized city, but it doesn't take very much to get into rural zones. In general rural zones in Riverside are disappearing, but in Arlington Heights there are many rural places that are being preserved. One such example is Victoria Avenue.
Victoria Avenue is best known for the Victoria Citrus Association which in it's day shipped many an orange throughout the world. Today the Victoria Citrus Association has been replaced with Sunkist, but people still collect the labels. We have a few of them in our house: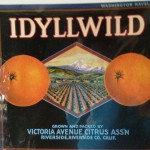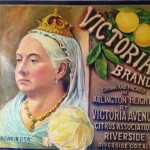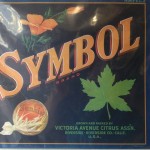 I have traveled Victoria Avenue many times. I have driven a car, ran, and most recently biked (probably the most popular choice). When traveling Victoria Avenue the first thing you will notice is the huge palm trees, but if you look down a bit you will notice many different plants grown along the way.
One of my favorite things to do is to venture a bit off Victoria Avenue and travel in between the canal and Victoria Avenue. In doing so you will find really big houses, lots of orange groves, and maybe if you are lucky someone will sell you some fresh picked fruit.
Going to www.victoriaavenue.org I was able to find the following historical information about Victoria Avenue:
VICTORIA AVENUE owes its existence to the vision of Mathew Gage, a jeweler from Ireland who moved to Riverside in 1881. He developed the Gage Canal which brought precious water to the citrus groves in Arlington Heights. His vision introduced the many varieties trees and plants along Victoria Avenue.

During the spring of 1892, the grading of Victoria Avenue began and the first trees were planted. Riverside's pioneer landscape designer, Franz Hosp, was responsible for the master plan—a masterpiece of roadway design which proved to be almost as appropriate for automobiles as it was for the horse and buggy crowd.

Pepper trees from Peru and eucalyptus trees from Australia were planted to give Victoria Avenue a year-round elegance. Shortly after, palm and silk oak trees were added. Riverside history books claim that this was the first use of a palm as a street tree. Today, palm trees are the signature skyline silhouette for Southern California. Hosp also discovered the 'Cecille Brunner' rose near Victoria Avenue and in 1894 introduced it to the nursery trade.

The first Victoria Avenue Bridge, named for Queen Victoria by Mathew Gage, opened on Thanksgiving Day in 1891. It linked the downtown Merchants, the Mission Inn, and Mt. Rubidoux to Arlington Heights and the citrus growers.

In June, 1902, Victoria Avenue was deeded to the City of Riverside with the stipulation that the trees were to be maintained and protected. The plantings remain under the care of the City of Riverside today.

As land usage in Arlington Heights became more residential and groves began to disappear, citizens became concerned about preserving this unique avenue as a city amenity. On June 11, 1969, Victoria Avenue was declared Cultural Heritage Landmark #8 by the Riverside Cultural Heritage Board. In October 2000, Victoria Avenue was added to the National Park Service's National Register of Historic Places.