San Juan Bautista Mission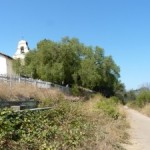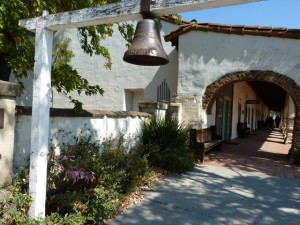 The main reason for the missions was to create a path in which the Spanish government could easily resupply their colonists and manage their expansive frontier from the many encroachments of other nations. Knowing this the missions were built not only with the consideration for distance, but also their tactical advantage. When building San Juan Bautista they surveyors must of thought that building on a high ridgeline must of been a good idea, boy were they wrong!
Living in California I have seen many fault lines, but this was the first time I have seen a building built on top of one. Needless to say San Juan Baustista has been built over many times. The mission would have been abandoned if it had not been for the discovery of valuable minerals in the area.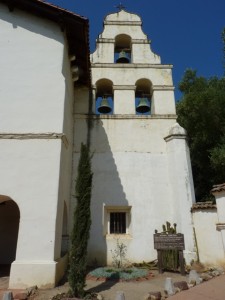 Despite it's remoteness the mission is surprisingly popular and was bussling with people preparing for a wedding when we were there. The town of San Juan Bautista is really quaint showing off an early Californian America experience. I will talk more about this in a different post.
We all enjoyed the mission, but we each had our own different reasons. AJ really enjoyed chasing the chickens, Denise liked seeing the setup for the wedding, my mom liked the arched rose garden, and liked walking along the mission trail (only mission where you can still see a part of the original trail).