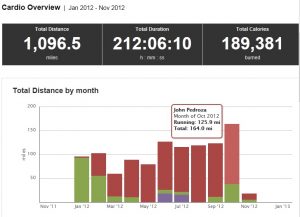 The race is now less than a week away. I have a lot of content to write and post about. I have in the last month moved to Riverside, CA and taken on a new assignment at work. As if those two events were not major enough, there is the marathon training. It has been a year now since I first walked to the end of the block and back.
It has been a long road since that first winded walk. Looking at the numbers they are impressive. By the time the race comes about I will have walked, jogged, and hiked over 1,100 miles since January. I have spent over 200 hrs. excersing almost 190,000 calories (I think I will be able to go over that mark by Friday). The health benefits have been incredible. I have lost 103 pounds and by body fat percentage has gone down 28 %!
Despite all of those impressive numbers I am still a bit nervous. Not only do I have go farther than I have ever gone, but I have to do it in less than 6 hrs. That comes out to a 13:43 min/mile pace. Not impossible, my training runs say it is doable, but it does mean no slacking on race day. There are so many things that can go wrong when you run 26.2 miles. What if what I eat in the morning makes me sick? What if it rains? What if a freak hurricane comes and they cancel the race? I guess in the end you try to prepare for as many of the factors which you can and try to mentally block out the negative. Still it is hard, and make no doubt about it, a marathon is very much a battle of the mind as well as the a battle with the physical.
On the positive, I have done the work necessary to finish this race. I have followed my training plan to the "T." I did all the mileage I  needed to do according to my training plan. I have prepared my body as well as I can. I have the right equipment (shoes, tech shirt, water bottle, etc.). I am very confident in my race day strategy (3 min run/ 1 min walk with gels at every hour).  My friend Barry puts it best by saying "the hay is in the barn" now it is just a matter of using those tools I have accquired to get me across the finish line. I can't say for certain I have what it takes, but I can say that I have done all that I can do to get there.  I am looking forward to a finishers medal, it is a nice thought,  but it will not make a difference to that which I have already accomplished. Whether I finish or not I am happy with my accomplishments and already feel in some regards like a winner.
P.S. If your interested in tracking my progress on race day go to: https://register.athletetracking.net/portal/tf_marathon_login_social?pvRaceId=1602 and you can get Facebook and/or Text messages of my progress. On race day only (11/10/12) text 1047 to 37619 and you can get text messages via mobile phone (this can also be done prior to the race by using the above link).