Objects of Devotion Conference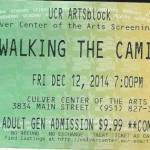 In Spain there is a trail called "El Camino de Santiago" (the way of St. James). It is a ancient pilgrimage trail dating back to medieval times that ends in Santiago, Spain, where people say lies the remains of the apostle St. James. From a genealogical perspective this trial holds a lot of significance to me because it traverses the land of the Pedrozas. One of these days I would love to take some time and actually walk the Camino myself.
Unfortunately, I am a bit out of walking range at the moment but there is a saying that says "The Camino provides" and I am beginning to think that is true. I read last week in the paper that there was going to be a special showing of the movie "Walking The Camino: Six Ways to Santiago". It was $10 a ticket, which was kind of high, but I was very excited to learn more about the Camino so I went ahead and registered for the movie.
While researching the movie I found out that UCR was hosting an arts conference called Objects of Devotion at the Culver Center of the Arts, literally in walking distance from work (just two blocks). The registration was free and there were some very interesting lecturers so I went. At the conference I was able to hear many wonderful lecturers and see a lot of interesting art. Then to my surprise at the end of the lectures they gave me a complementary ticket. If that wasn't good enough after the movie I got to meet Annie O'Neil who is a co-producer and one of the pilgrims in the movie.
I could talk for a long time about all the interesting things I saw and heard, but I am saving those thoughts for a different time. In the meantime however if you are interested in some of the abstracts you can click here (part 1) and here (part 2).
Buen Camino!