Bandshell at Fairmount Park: Riverside City Landmark #10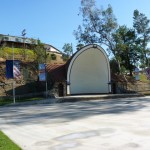 Location: Fairmount Boulevard and Market Street (inside Fairmount Park)
Date Established: September, 1920
Date Visited: 5/31/2014
Arthur Burnett Benton, was a well known architect from Illinois who moved to California in 1891. In 1901 he was hired to design the First Church of Christ, Scientist in Riverside. Attracted to his Spanish Mission revival style Frank Miller hired him in 1902 to design the new "Mission Wing" for the Mission Inn. He would go on to design many more buildings for the Mission Inn and Riverside. Including the Fairmount Park Bandshell in 1920.
The Fairmount Park Bandshell was originally built according to the city of Riverside to "commemorate the 20th anniversary of the founding of Riverside's Military Band. It was destroyed in a fire in 1992 and rebuilt in 1995."
Today the Fairmount Park Bandshell sits squarely in Fairmount Park. Still used for concerts today (although there is no more military band), you can go to the park and listen to a band most Wednesday nights.