Crestline Summer Reading Program 2011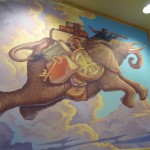 The Crestline Library is having a Summer reading program this year. The contest is called "Novel Destinations." The grand prize is a Nook e-reader, but don't worry about that because I am a angling to win it myself. Never to fear however because there are some really good lesser prizes.
The way it works is every time you read and return a book you are entered into the weekly drawing. This week they are raffling a $25 gift certificate to Paula's Cafe. After you read 5 books you can choose to have your entry count for either the weekly drawing or the grand prize drawing (I suggest you try for the weekly drawing). The drawings continue until the first week of August at which time I will be selected the grand prize winner.
SO, how am I so sure I am going to win?? Well, first of all I already have checked out my first five books (sounds like 5 easy blog posts to me)and have already read three of them. Second, I go on vacation later this month so I am thinking I should have plenty of time to get in some extra entries. Kind of funny really, I haven't read this much since college.
Anyhow, you should get out there and get reading. Any book counts! Oh and if your a teenager you are considered to be in a different category (grand prize there is a iTouch).
P.S. I have no idea who is going to win, but I want to win!!