Coba: The Religious Center of the Mayan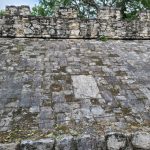 Date Visited: 10/5/20
After Tulum we headed out to Coba. Coba is inland in the Northern part of Quintana Roo. We passed a lot of little villages on the way. Life doesn't look like it has changed much in these little villages. We saw a lot of people basket weaving.
Coba has been known has a religious center in the Mayan world for some time. The earliest archeological evidence dates back to 50 AD, but most of what you see today at the site was built around 600 AD. At it's height it is estimated 50,000 people lived in the city of Coba.
Many times when you visit a pre-hispanic site getting a sense of a time line is difficult because the history of the location spans many lifetimes. Due to this a lot of Coba today is still unknown. There were some inhabitants in the area when the Spanish came in the 1500s but it was mostly abandoned. A lot of what we know about the place is written on the stellas. In the year 900 AD, there was a hundred year war with Coba and Chichen Itza. According to the stella, Chichen Itza won in 1000 AD, which might explain why the city lost prominence.
Due to it's location in the jungle, Coba was known for a long time but has not been fully excavated. The site was first dug by archeologists in the 1800s, but it wasn't until the 1970s that the stella were translated. The site was first opened to tourists in 1973. Coba was much more impressive than Tulum, which we had visited earlier in the day. You were allowed to climb on some of the pyramids but the biggest one was off limits. We ended up renting a bicycle taxi for 160 MXN ($8 USD), which was good because it is a long way to the main pyramid. With me and my dad on the bike it must have been a lot of weight but I was happy to let a local pedal us around. Only my dad and I took the bicycle taxi. Denise and AJ only went to the first part of the site because they were tired from visiting Tulum.
The guy stopped at some interesting points along the way. As mentioned Coba was a religious city for the Mayans. As such many buildings were dedicated to tracking or helping the gods. We saw two ballcourts, an observatory, and the largest pyramid was dedicated to observing the moon, it had some interesting snakes on it.
Due to COVID19 there were not many tourists at Coba which was nice for us, very bad for the locals. Admission to Coba is pretty cheap at $80 MXN ($4 USD). We got there by rented car but there are tours and buses that go out that way from all the major cities in Quintana Roo and Merida in Yucatan. If you come by car parking is $50 MXN ($2.50 USD).
After Coba we were hungry and looked for a place to get a little to eat. Not very hard to do in Mexico. Just a few blocks outside the archeological site we found a restaurant on the Coba lake callee El Cocodrillo. We had Mayan food. AJ and my dad had Aztec soup. Denise had vegetarian tacos and salutes (kind of semi soft mini tostadas), and I had cochinita pibil. The tortillas in Southern Mexicoare made by hand and very small, I like how they served them in a gourd. We also shared an order of chicken salbutes. The food was delicious and the total bill was only $560 Mxn ($28 USD) for the four of us.