Chichen Itza, Yucatan, Mexico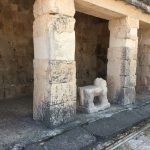 Our visit to Chichen Itza was part of an all day tour that toured the eastern part of the state of Yucatan.
Before we visited Chichen Itza we went did as the Mayans would do and went to a cenote to purify ourselves. Actually, we just wanted to swim in a cool swimming pool. A cenote is a giant water hole. In addition to killing the dinosaurs, the impact of a great meteor had a very strange effect on the land. It liquefied the land and then when it reassembled itself it became very porous. So much so that all the water in the Yucatan peninsula sinks. There are hardly any above ground rivers in the Yucatan, they are mostly underground and occasionally they pool up in underground holes. There are over 250 known cenotes in Yucatan. Since the water goes through the ground it gets purified naturally and is crystal blue. After our swim we had a nice buffet lunch of traditional Yucatan food.
The ancient Mayan site of Chichen Itza rose to prominence is about 600 AD with it's hey day being in about 900 AD. It was a major city in the area until about 1200 AD when there is evidence that a neighboring city of Mayopan raided the city. For unknown reasons the site was completely abandoned (other than ceremonial visits) by 1300 AD. When the Spaniards came in the 16th century they tried to conquer the inhabitants but they were very hostile and so they mostly just let them be.
In 1894 an American Consul named, Edward Herbert Thompson, purchased the land of Chichen Itza. He knew there was ruins in the area and he had heard of gold artifacts being discovered in local cenotes (water holes). He discovered the  Osario (High Priest's Temple) and the Cenote Sagrado (Sacred Water Hole) and found lots of artifacts. In 1926 the Mexican government seized Thompson's land and charged him with smuggling so he fled the country (back then the Mexican government had a thing for instant executions). In 1944 the Mexican Supreme Court ruled that Thompson had broken no laws and the land was given back to his heirs.
Today Chichen Itza remains as one of the premier archaeological sites of Mexico. An important place to visit for sure, but don't think you will be there by yourself. The place receives hundreds of tour buses every day. At $481 MXN (about $25) per person for foreigners ($202 MXN if you are Mexican), it is one of the more expensive archaeological sites to visit in Mexico. The first thing you will notice when you go is the hundreds of sellers who all seem to be selling the same things (warning many of those things come from China). After you make your way through the gauntlet of sellers you will find yourself with the many others looking at the Mayan buildings. The buildings are impressive, but at Chichen Itza it is look, do not touch (or climb). Be prepared with good walking shoes as some of the buildings are stretched out. Also bring a good hat, water, and sunscreen. It is very hot and muggy.
For me visiting Chichen Itza was a mixed blessing. On the one hand I felt very blessed to be able to visit in person such a marvelous structure. On the other hand the experience was very touristy, I kind of felt going through I was a commodity instead of someone who was participating in the experience. I have been to many archaeological sites and I completely understand the need to make money, but this was little bit over the top. That said it is one of the major archaeological sites of all the Americas.
After visiting the pyramids we ended our day by going to the "Pueblo Magico" (magical town) of Valladolid. Valladolid was founded by the Spanish and is a beautiful and quaint colonial village. There were again many tour buses there but most of them were leaving when we got there so it wasn't so bad. We enjoyed walking around the plaza, had some ice cream and marquesitas (a crepe like dessert made with cheese and nutella). It was nice to sit and relax after the hectic visit of Chichen Itza.
YouTube video: