Carnival Inspiration, November 2012
When Denise first proposed the idea of a 4 day cruise for our 10th wedding anniversary I was a bit apprehensive. Not that I didn't think I would enjoy it. Heck, anytime you are not at work it is time for celebration, but the idea of just sitting somewhere for 4 days is not the type of vacation I (John) am into. Then again after just having completed a marathon a cruise seemed like the thing to do.
As much as we try to save money we are not in the position of having a lot of money and so we went with Carnival cruise lines for our cruise. Cruising is not a cheap endeavour, but Carnival is hands down the cheapest game in town. I went to a lot of different sites looking for rates but found that the Carnival site had the best rate. When you are on board a cruise ship there is no physical money exchanged. Everything is bought and paid for with your "Sign and Sail" card. It can get very expensive if you don't watch what you are doing. The total cost of our 1 week vacation was about $1,000 dollars. This price includes the cruise tickets, spa treatments,  gym classes, gas to get there, parking at the marina, shore excursions, and our trip out to Santa Barbara (which wasn't really part of the cruise, but it was an expense to us).  We could have done the cruise for a whole lot less money but we did want to splurge a little bit for our anniversary.

Life aboard the Carnival Inspiration was nice to say the least. You get really pampered on board a cruise ship. Food is available 24/7. If you want room service you just call and it magically appears. Custom pizzas and salads are ready in minutes in the dinning room. Four egg omelets were made however you wanted them. Then there was a main dining room. We had our dining at 6pm. It was nice. We had a team of 4 waiters for dinner. Our head waiter's name was Alejandro. He was from the Philippines. He was a funny guy. Anything we wanted he made sure we got. Milk, Juice, hot chocolate, and of course water was free. Denise paid $24 dollars and got a bubble sticker on her card that allowed her to drink all the soda she wanted. Alcohol of course cost a fortune, but we don't drink so it didn't matter to us. I dare anyone on a cruise to try go hungry.
My goal was to not to lose weight on this trip, but to just maintain my weight. In this I was not successful (gained two pounds).  Even though I did not hit the goal I did try. Every morning I went running on the ship. They had a running track at the very top of the ship and a full gym at the front of the ship. I paid for a Body Sculpting Boot Camp class that was really challenging. It was two sessions of 45 minutes at a 160 beat tempo. It was fun though and they gave me a little booklet to do the exercises at home. I also enjoyed playing with the weight resistance machines they had, it gave my upper body a good workout.  Two massages on board made sure I left with no sore muscles.
As far as entertainment went there was about everything one could imagine. There were Las Vegas style shows, trivia games, dance parties, crafts, etc. Pretty much something for everyone. One our favorite moments came on the Day at Sea when we had gone upstairs because the ship had announced a mega dance party at the pool. When we got up there it was not very "mega", just a few couples dancing to a very tired sounding band. Not getting into the scene we decided to go for a walk instead around the ship. Down by the disco (which was not in use at the time) we saw this old man in his 70s with a big pink sign that said "California Plus Loves Cruising Away the Blues". We would later learn this man's name was John. There were like 20 older ladies following this guy which we found really curious. At first we thought he was a travel agent, but talking to one of his followers we found out he was just a fellow cruiser (a really popular one at that). So this group of people walk into the disco that is really closed. John puts this personal stereo system on the bar and starts playing music out of his i-pod. The music is mostly oldies, but the place becomes packed. So packed Denise and I find ourselves bumping into all these older people (at least 15-20 years older than us). We are having a blast but the DJ and the security guard are completely confused at the situation that has developed. Next thing you know the DJ comes on the speaker system and says "I will play your music but I have to play it on our speaker system." So the party continues from about 8:30 PM to about 10 PM. At 10 PM, the DJ comes back on the speaker system and says something to the effect of "it's 10pM I have to play top 40 hits now." The crowd is not happy, as soon as the last oldies song is played the crowd almost instantly disappears. The music is still playing but now there are just a few younger people left dancing. It was a very surreal experience. Anyhow, lesson of the day was, if you are on a cruise and you see John and the pink sign go there. That is where the real party will be. Just kidding, the real party on a cruise is just doing whatever you want, because you can.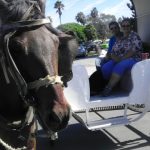 The ports of call for our cruise were Long Beach (where we started and ended), Catalina Island, and Ensenada. At each of the ports of call the ship had shore excursions you could buy, but we didn't buy them. I have been previously at each port of call and it made no sense to me pay the prices they were offering. You do get the guarantee they will not leave you at port, but is that really worth paying double than the land price? I guess some people like to pre-plan everything. I prefer the adventure of the hunt. On Catalina Island I decided to climb all the way to the top of the mountain. At Ensenada there was a festival for an off-road race called the Baja 1000 to see. We also followed a map making our own mini-walking tour. Nothing like sitting in a quiet plaza with a warm bag of churros and a bottle of be-light mango juice. Getting out on land was good too because on port days the ship was a bit slow. You could still hang out and be in the pool, but it was nice to walk a bit.
Overall the trip was very fun. It was nice to have some time alone with each other. We are very grateful to Denise's parents for taking AJ for the week. Which reminds me that Carnival is very family friendly if you want to take your children along, they have Camp Carnival where the kids have age appropriate activities and can stay all day if they want. I saw lots of kids begging their parents to go back to camp. Anyhow, we had fun. I can't say I would want to do a cruise all the time, but I (John) could be convinced to go again. As soon as we got back home Denise was already looking at prices for a second trip so I could see it happening again. To end this post I will give you the words our Head Chef gave us every night "Bye, YALLL!!!" 
Video:
Click Any Picture to Expand: