Canada Providence Capitols: Toronto, Canada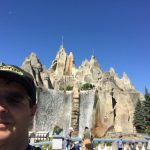 Visited:July 5, 2018
It is kind of funny when you start traveling a lot. Things just start to mix together. You would think having left the country I would have remembered that and wrote a blog post about it, but here it is a year later and I didn't, but the good thing is it did happen and I do have pictures and video to prove it.
When you look at a Canadian they look a lot like a US Citizen. They might say "eh" a lot but other than that I don't think I could tell the difference between a US citizen and a Canadian citizen, but don't be fooled, there are differences.
To illustrate this I need tell you what I know about Canada, which is not much. I mean I went to the Canadian pavilion at so I know that Martin Short, Keano Reeves, and Celine Deon are Canadian so that was something but when I think of Canada I have to admit that I mostly think of nanaimo bars.The first thing we did after we crossed the bridge from Port Huron, MI to Point Edwards, ON was to go to a gas station and look for a nanaimo bar. I have to say after looking all around that gas station I was very disappointed to find out that nanaimo bars are from British Columbia and I was on the opposite coast, so it was going to be a VERY long drive if I wanted a nanaimo bar. So I settled for some bread with some light eggy filling. I am not sure what it was, but it was good. Not as good as a nanaimo bar, but still good. I told the guy at the register that and he said "well you have had a beaver tail?" and I gave him a funny look and said "no" and hurried on my way.
See what I mean? They are different, but it is OK because the drive through Ontario was very nice. There A LOT of trees in Canada. We traveled over 180 miles to Toronto and even though Ontario is the most populous of the Canadian providence (that is what they call the regions instead of states), we didn't see a lot of people until we reached Toronto, and then it was like BOOM, here are all the people.
Toronto is Canada's most populous city at 2.7 million people. It is a very big city. Some would even describe it as a wondrous place, and they would be right because there is a big amusement park there called Canada's Wonderland. It is a big park and it has lots of shows. My favorite show at Canada's Wonderland was the circus show. Canadian circus shows are much different than American shows. They contain a lot more story in addition to the high flying stunts. It is no wonder how Cirque Du Soliel is taking over all the circus shows.
It was at Canada's Wonderland I got to try a beaver tail. Much to my relief, I soon found out that Canadians are not leaving small mammals without their primary means of swimming. BeaverTails is a Canadian-based chain of pastry stands that sell a fried dough pastry that is long and kind of looks like a beaver tail. A lot like Indian Fry Dough, you mix some flour with some lard, you fry it and cover it with nutella, you have a delicious treat that has been going strong since 1978. Also at Canada's Wonderland I got to try Poutine, which is a food that the Canadians invented in the 1950s, it consists of french fries covered in gravy and cheese curds. Sounds weird but is pretty tasty. Show a Canadian a BeaverTail and Poutine and they will do almost anything for you.
As mentioned in Canada they have provinces instead of states. The government is a parliamentary system which meets Ontario Legislative Building in Queen's Park. Yep, the Queen's Park as in Queen Elizabeth II. You might be saying to yourself isn't she the Queen of England?! I would say to you, SHHH!! In Canada her title is Queen of Canada, they will let a tourist slide once, but it is against the Canadian Constitution to call her anything else in Canada. The Ontario Legislative Building is much different that of a US state capitol. The first thing I noticed was the lack of a dome, also the edges of the building were very round. I am not sure if it was because of the day we got there or what, but we couldn't go in, but we had fun walking around the building.
Driving around Toronto we got to see a lot of fun sights. Like, the Rogers Centre (yes that is spelled correctly), home of the Toronto Blue Jays. We also got to see the CN Tower, it is kind of tall so you can't really miss it.
Our time Canada was short. We left Canada from Niagra Falls to go to Niagra Falls. That sentence might also seem off but it is also correct. There is a Niagra Falls in both the US and Canada, which is good because the falls are on both sides of the border. Crossing was easy, but we got tricked a little bit in New York because we were in a rental car and there was this toll road but there was no booth. We tried to call in like the sign said to do, but we were not the owner of the car and despite our paying by phone, by credit card, the rental company still got notice and we got a "convince fee" when we dropped the car back in Chicago. Yeah, we did a bit of driving on that trip, but still not enough to get a nanaimo bar.
Canada Video: