California Welcome Center, Buena Park, CA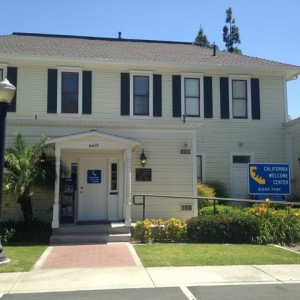 Are you new to California? If so don't worry your not the first. California has for a long time been a place of travel. For many centuries now people have been traveling to California in search of what has been called "California's Gold."
There are many California Welcome Centers but the one in Buena Park might be one of the oldest. First named the Stage Stop Hotel, the building was first established in 1890. Before there were cars, California had wagons. Wagon travel in California was not an easy mode of travel. California is crisscrossed with some of the largest mountain ranges in the continental United States. Add to that the fact that most of the state is a desert, it makes for a long and bumpy ride. To recuperate from long journey stagecoach stops were build across the state. At The Stage Stop Hotel weary travelers could stretch their legs, stay at one of the six upstairs rooms, or get a quick bite to eat before continuing on their journey.
Following the tradition, the last time we went to Buena Park (last Saturday) we decided to make a stop and were happy to take a bit of stretch break. The welcome center is located at 6601 Beach Blvd. in Buena Park, they are open most days from 9am to 5pm (no cost to visit). It is very easy to get to on the way to Knott's Berry Farm. When we were their we had fun taking a few cheesy pictures at the photo ops and got some brochures that we plan to use for some future outings.
Continuing it's centuries long mission to help travelers on their journey, the California Welcome Center is still welcoming people to California. They will help you find what you are looking for, whether it is a hiking brochure, a discounted amusement park ticket, or a interesting dining center you are likely to find a tip or two at the California Welcome Center.
Click on the pictures to enlarge: