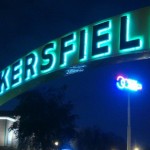 This Christmas weekend has been rather busy. For Christmas this year we went to Denise's parent's house in Bakersfield, California.
To start the activities on Christmas Eve morning I took a 10 mile jog along the Kern river. It was kind of interesting because it was the first time I have actually ever seen the Kern river with water. Sounds weird I know, but it is really rare to ever see water there. It was a fun run, but it was a little chilly as evidenced by the fact that I slipped and hit my head in a frozen puddle. Can we say OUCH?!!
After I rolled myself off of the street we went to Vallarta Market. After driving around the parking lot for about 15 mins and meeting the entire hispanic population of Bakersfield we were able to secure 12 tamales, Mexican sweet rolls, and champurrado. For those not familiar with champurrado it is a Mexican hot chocolate drink made with cornmeal, chocolate, sugar and heavy doses of cinnamon (nice and brothy).
The day soon however to night and we traveled out in the middle of nowhere (really, if we weren't following Denise's parents I am not sure we would've made it) to a place called the CAlifornia Living history Museum. Commonly known as CALM in Bakersfield, this museum normally is a kind of local species zoo, but during the whole month of December it becomes dazzling light display of dizzying proportions.
You may think I am exaggerating, but all you need to do is ride the merry-go-round and you too will be dizzy (this was the first time in a long time that AJ insisted someone stand by him on a merry-go-round).
With visions of dancing lights in our heads we made our way back to Denise's parents house and all settle in for the night. As morning came it was time for the traditional opening of the presents. AJ of course made out with a bandit (we no longer need anymore train tracks, EVER).
After church Tom, Erica, Harper, and Jonah showed up. It was a toddlerpalooza as we ate turkey, pies, and built a gingerbread house.
In summary it was a great Christmas. Family, Food, Lights, and Church. What else can you ask for??
Well, I guess there is more. What's that? You say you don't want anymore?? Too bad, this is my blog 🙂 I give you for your review some miscellaneous pictures we took in December that didn't quite make their own blog post.