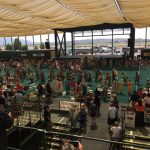 Location: Soboba Indian Reservation, San Jacinto, CA
Cost: Free
It Denise's birthday and we were a little low on cash and wanted to get out for a bit. Looking on the Internet we were able to find that the Soboba Indian Reservation was having a Pow Wow.
I had never been out to the reservation before because besides the casino, there isn't much there for visitors. The casino (at least from the outside looked nice, just behind the casino was a resort with a very nice looking golf course. We did not go inside the casino so we can't say much for the inside. We went to the stadium where we got to see the free pow wow.
We got there right as they were doing the grand opening. All I can say is it was flurry of sight, sounds, and color. It was very interesting. In addition to pointing out all the different types of dancers I thought it was interesting that they even had their own national anthem.
They had a little fair going on outside the stadium. There were handicrafts, tshirts, nick nacks, and of course food. I was expecting fry bread, and they had it, but the unexpected was the Dole Whip taco. It cost about $6 and was kind of small. It was basically a small fry bread, mixed with pineapple dole whip (kind of like ice cream), and an apple cobbler. It was different but good.
A video of what we saw: