2016 Tournament of Roses (Float) Viewing Area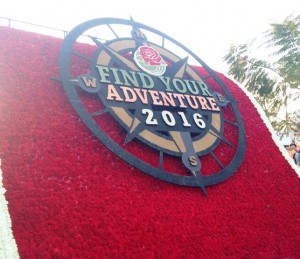 Find Your Adventure was the theme of the 2016 Tournament of Roses Parade. I thought this was a great theme for me this year to think about. We did not renew our Knotts Berry Farm passes this year (after 39 times we were kind of burnt out), so it will be up to find our own adventures this year.
To start the adventure off, Denise's family was in town so we went to the viewing are of the Rose Bowl floats. It cost $10 for viewing area and $3 for the shuttle per person.
Before going to the see the floats we had hot dogs at the Dog Haus, one of my favorite hot dog places in Southern California. The novelty is that they use Hawaiian rolls for the bun.
The viewing area was very full with people but we enjoyed seeing all the floats up close.