State Capitols: Indianapolis, Indiana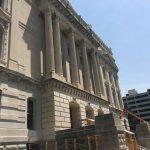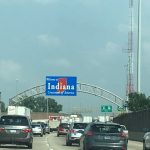 As the name implies, the name of the state of Indiana came from the many Native American tribes that once inhabited the area. Originally formed as territory lands for Native Americans that were relocated from the east, new treaties pushed the inhabitants into new lands and the state of Indiana was formed in 1816.
The first capitol was in Corydon but was two small. To save money they eventually moved the capitol to an old courthouse, but that again was too small. The Federal government donated some land to the state capitol was moved to Indianapolis. The first capitol in Indianapolis was very grandiose. It was best known for one of very many funeral ceremonies for President Abraham Lincoln. That building however was not well maintained and so was condemned (because the ceiling fell down), so it was demolished in 1877.
The current building was started in 1880 and the construction was overseen by Civil War general turned civil engineer, Thomas A. Morris. The general was very efficient in his duties and built the building for $200,000 under budget. Finished in 1888, the building houses the governor's office, the state congress, and the state supreme court. With the very long wings it kind of has a cathedral like look to it.
The city of Indianapolis seemed to be a very calm city. Although the city gets very excited if you talk about fast cars or football.
Visited: July 11, 2018