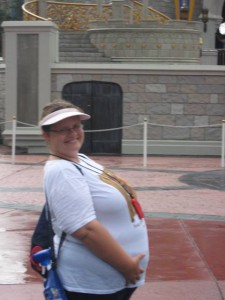 I just got back from my monthly Dr.'s appointment. My blood pressure is a nice safe 126/76. Yea!!
At my last appointment it was roughly 155/95 at which point they put me on the minimum dose of a safe blood pressure medication. That has done the trick. (Methyldopa 500 mgs a day for those who care about such things.) Oh and the numbers from my 1hr glucose tolerance test are just fine too. I don't even have to take the 3hr test. A very good way to begin the third trimester!
I will still be going in for Non Stress Tests starting tomorrow. In general feel fine, as usual. Just tired. I could probably sleep 10 hours a day given half a chance.
One fun thing is that I've started feeling more than kicks. I can now feel AJ slide from end of ""his room"" to the other every so often. One other noticeable difference is that when I drive with John in the early mornings or at night I drive with the window down and he has all three heat vents pointed at himself. In the summer we were both just hot, but now that it's cooled down a bit it's a different story, *grin*. Oh, and John is working hard to make sure I don't have to bend over. He says that it hurts HIM to watch me bend at the waist.
Attached is a photo of me trying to look pregnant. For reference I'm 26 weeks in this photo. You can see that while I'm getting quite thick in the waist, if you didn't already know I was pregnant you would not take the chance of asking me when I was due!"