Mexican State Capitols: Puebla, Mexico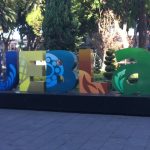 Visited: November 23, 2017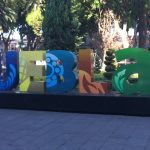 The full name of Puebla is Heroica Puebla De Zaragoza, but as the simple town that it is, no one calls it that. The city was founded in 1531 by the Spanish conquistadors. It was in the middle of the Tlaxcala and Cholula nations that used the area for "flower wars", wars that were not for territory but the losers gave the other nation victims for their blood sacrifices.
Due to it's premier trade route location, Puebla quickly gained status. The city is most well known for mole poblano, chiles en nogada, camote (a type of candy), and Talavera pottery. The main economy however is in it's factories that surround the old historical center. The prosperity of Puebla has made Puebla the forth largest city in Mexico.
As mentioned the outskirts have a lot of factories which give Puebla a very industrial look, but the historical center still retains it's colonial charm. In the architecture you see a lot of French influence with a lot of buildings from the early 1900s having a lot of steel and glass.
For us the day was spent walking around the historical center looking at old churches and monasteries (which have now been converted to restaurants and malls). We also went to Cuexomate, which is the world's smallest volcano (only about 60 ft tall). Luckily, since it is the middle of the city, it is not an active volcano (at least it has been dormant for a thousand years) and for about a dollar you can take some stairs and climb right into it. The volcano is considered the baby of Popocatépetl and Iztaccíhuatl, which is kind of true because it was most likely created by an eruption of Popocatépetl.
The night we were there happened to be Thanksgiving, so we went to Sanborns, which was the only place we knew that had turkey. The Sanborns in Puebla is a converted monastery. A beautiful building, they have pictures on the walls of the sisters that used to live in the building. My favorite part of the meal was the Waldorf Salad and having Cholula hot sauce on my turkey.