A Week in the Sierras: Day 1

(click on the pictures to expand)
Last week I took my Scouts from Team 253 (we are Varsity Scouts so we call ourselves a Team) to the Sierras. It was a wonderful trip that took us to heights of 11,000 feet and across 21.5 miles in this series I plan to write a few notes about each day of our trip.
Our first day concentrated on getting to the Sierras. Our destination for this trip was the Inyo National Forest, specifically it was the John Muir Wilderness area. After about 5 hours of driving from Crestline we arrived at the Bishop Park Campground. It was kind of an interesting drive to me because I live in Crestline which is part of the San Bernardino National Forest and to get to Inyo National Forest we had to drive up the 395 which is basically all desert. It just reminded me how diverse California actually is, it is amazing to me that you can traverse so many different ecological systems in one day's worth of driving. The Bishop Park Campground was really nice. We were in the group site that came equipped with a fairly large bear box, several fire pits, and a flush toilet (that even had a sink). This was all set next to a beautiful river: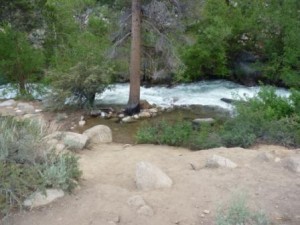 With a river like that it was obvious the first thing to do after setting up our tents was to go catch dinner. My friend Neil (another Adult leader) told me he saw a fish under a log in the river. I put some Powerbait cheese on my rod and put it in the river, 30 seconds later I had a fish.


I really couldn't believe how easy it was. In a matter of about 2 hours our Team had caught seven fish. During the whole trip the scouts caught dozens (I lost count after about 12) of fish. It seemed that every stream and lake we saw had multitudes of fish ready to eat. Anyhow, after cleaning out our fish and eating them we settled in for our first night with full stomachs.