2015 LA Travel and Adventure Show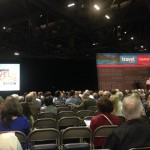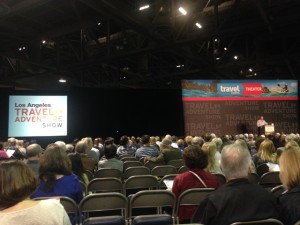 On Saturday, February 21st, we went to the LA Travel and Adventure show. According to my mom it was advertised on TV but I don't watch much TV so I didn't see any TV ads. It did however come up on my Goldstar (it is a discount ticket dealer kind of like Ticketmaster but a lot less expensive) email. I wasn't fast enough to get the free tickets but I did get $10 tickets (they were $18) at the door. Denise had a church meeting so she didn't come with us, but my sister was in town so it ended up being AJ, my mom, my sister, and myself.
Not knowing much about the show I didn't really factor in how many people were going to be at the Long Beach Convention center. The travel show took up the majority of the venue, but there was also a Herbalife and International Coffee convention going on. Getting into the convention center was kind of interesting. There was a really long line of cars leading into the convention center. We ended up ditching the line and parked at Pike Center across the street (which ended up saving us a $12 parking fee).
There was a fee to getting into the travel show and we exchanged our vouchers for wrist bands that gave us access to the show. We were honest but I didn't see anyone checking our wristbands, so my guess was many people were getting in for free.
Inside the show their were so many things to see and do. There were lectures, dances, food, and games. Every state was represented and many different countries. Some places like the Travel Channel had whole sections reserved.
The first thing we did was to go to a lecture by Rick Steves. It was about finding bargains in Europe which I thought was interesting and he had a lot of good slides (whoever thought it would be entertaining to watch other people's travel slides). After the lecture he waited for anyone wanting to get his autograph. I was able to have a very brief conversation with him. He seems like a very down to earth person. I don't think I could ever afford his tours but I plan to continue to read his guidebooks.
Most of our day was spent visiting different booths. I enjoyed talking to people about their different areas of expertise. For AJ it was fun because a lot of the booths had little games you could play. At one you had to find the key that opened the hotel room, at another you looked at turtle shell and guess how old it was, AJ's favorite game was from the city of Big Bear where they gave you a balloon with a name on it and you had to find someone else with the same balloon. AJ ran around the whole convention center looking for balloons saying "what kind of balloon are you?" Unfortunately he never found a match, but he enjoyed his balloon.
One of the benefits of the travel show is we got a lot of freebies. In addition to the balloon we got lots of stuff. From Japan I got a souvenir ice cream dish. My sister got a mixing cup. We got stickers, calendars, band aids, and snacks from different countries.
After we had our fill of the show we went to Islands for lunch. They messed up our order but they made it up to us by discounting our meal and validating our parking for three hours, which meant we only had to pay $4.50 for parking (as opposed to the $12 we would have paid at the convention center).
My take away from the show was that I had a fun time. Just like when you travel to different places it is mostly about the people you meet and we met a lot of people. I don't think I will be buying any packaged tours but I did get some ideas of new places to visit and things to do so that was good. For $10 I think I got a lot of good travel experience and information. If I can get some cheap tickets I will probably go again next year.
Here is a video of Rick Steves talking about the booths at the show (this is the Santa Clara venue, the Long Beach venue was much bigger):